ECSU art professor casts hands for North Carolina Veterans Park
Posted On December 6, 2010
---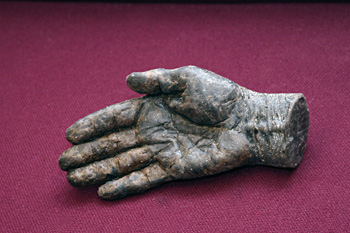 Kesha Williams
December 06, 2010
There were 12 counties on his list, but now six remain on that list. Mr. Alexis Joyner, a professor and chairperson of the ECSU Art Department, visits each town in those counties. He hears their stories.&ampnbsp He sees the smiles on their faces. Some stare in another direction while talking and reflecting on their service to the country.&ampnbsp All are delighted that the North Carolina Veterans Park is slated to open soon in Fayetteville, N. C.
The park will be a place to remember and honor veterans. Joyner is one of eight artists who will cast the hands of veterans and community supporters. The hand molds will be sent to a foundry that will cast them into bronze pieces that represent North Carolina veterans who served and protected our country in every branch of the military. Architects will use the hands in a vivid display that will inform and captivate visitors. Veterans were selected from each of the state's 100 counties. Soil samples from their corresponding town/cities were also collected for the display. Joyner said it is one of the neatest projects he has ever been involved in.
&quotI've never had to travel to so many counties and involve so many people in an art project. This really is a community type project, &quot Joyner said. &quotThe veterans are so excited you can hardly wait to see the finished project or to see their faces when the park opens. The older vets are really, really honored.&quot
At every site Joyner casts the hands of participating veterans separately. The supporters, whose hands were also cast, were family members or members of the community who supported veterans.&ampnbsp One participating vet, he said, was over the age of 90. Some veterans told Joyner they are not sure of the reasons they were chosen for this project but they are humbled to represent so many of the state's veterans. Joyner says this is a unique project that unites art and history.
&quotThe difference between this project and a memorial that reflects veterans who have died is the fact that these hand molds were made from live veterans. As a result, this is a celebration not solely a remembrance of those who have passed,&quot Joyner said. &quotThis takes art out of the classroom where many people first learned about art to a viable location. No it's not in a museum or gallery collecting dust. This project allows the public to see over 500 hands of the actual people who have served our country and community people who supported the military.&quot
---