ECSU Announces its 2nd Annual ECSU Day of Giving Campaign
---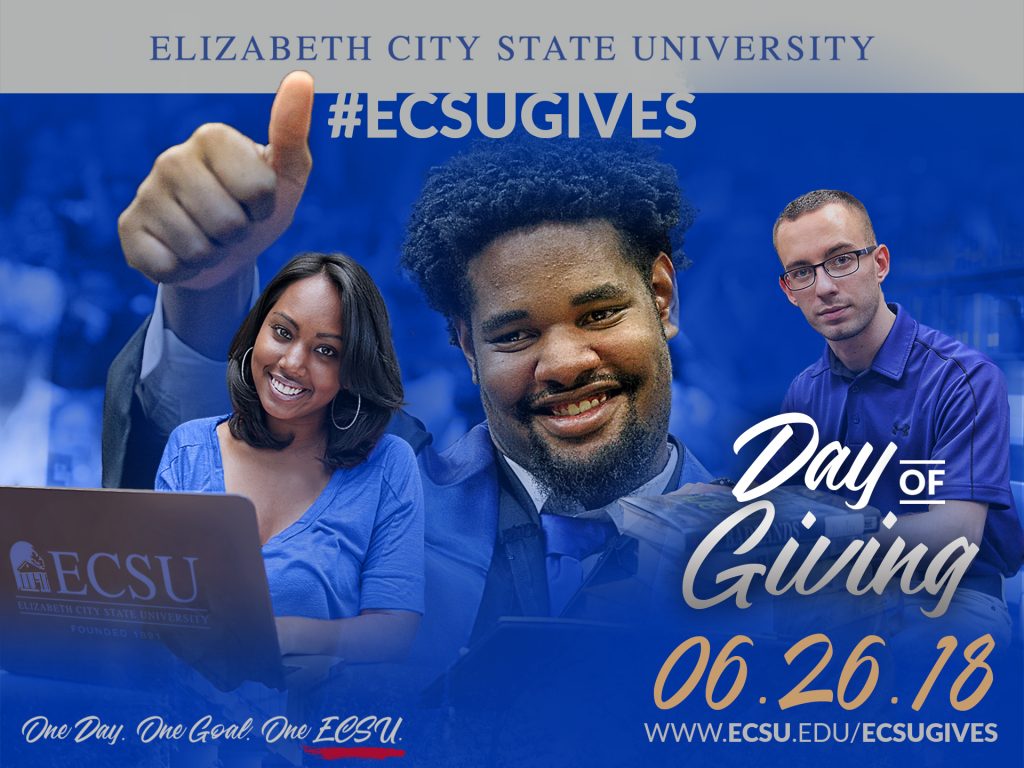 To assist Elizabeth City State University in serving its mission, the university will host the 2nd Annual ECSU Day of Giving (#ECSUGives) on Tuesday, June 26, 2018.
The inaugural campaign raised $137,830 from 1,118 donors. The goal this year is to raise $150,000 from more than 1,500 donors, benefiting a number of causes both community and university-related. Donors can make gifts between now and June 26, 2018, and add their names to our distinguished list of donors by going to www.ecsu.edu/ecsugives.
"I am asking all Vikings and friends to join us in coming together on June 26, for One Day. One Goal. One ECSU. One Community. Our students are counting on us," said ECSU Interim Chancellor Karrie G. Dixon.  "We are investing in making ECSU's future burn bright, and we need the support of alumni, students, faculty, staff, Elizabeth City and the entire northeastern North Carolina community to make a difference."
For more than 125 years, ECSU has served as a premiere institution, offering a wide variety of academic programs and services, fostering intellectual growth and critical thinking skills inside and outside of the classroom, and providing a nurturing campus environment that supports today's diverse student.
The ECSU legacy and rich history has fortified this city and has become a beacon for the future of the state's Northeastern region. ECSU staff and faculty are committed to strengthening the university, and enhancing its visibility as a leading regional partner in teaching, research, and service for many years to come.
The work towards building a brighter future at ECSU includes our 20,000-plus alumni, the citizens of Elizabeth City, Pasquotank County, Northeastern North Carolina and beyond.
None of this can be done without support.
Donors may support several initiatives including the ECSU National Alumni Association's Student Support Initiative that seeks to raise $10 Million over the next five years to support student scholarships. Other initiatives include the following:
1) NE NC Community Development Fund- donations to this fund will support community-based projects in Elizabeth City and northeastern North Carolina;
2) ECSU Student Development Fund-This fund will support student-development initiatives including exposure to world-class speakers, opportunities to study abroad, and other student-success experiences;
3) The ECSU Fund (Area of Greatest Need) – go directly to the area of greatest and most immediate need at the university.
"Donors to ECSU can choose among several initiatives that represent the very best of ECSU or they can elect to give to any established scholarship or fund at the university," said Vice Chancellor for University Advancement John Michael Lee, Jr. "I believe that we can make a difference at ECSU and in the northeastern North Carolina community one donor at a time."
During the ECSU Day of Giving, donors may also participate in a number of challenges. This year's challenges include the Decade Challenge, Departmental Challenge, Greek Challenge, Student Challenge, IGTAM Challenge, and the Community Challenge.
The Decade Challenge and Greek Challenge will provide up to a $2,000 named scholarship to the alumni decade or Greek organization that raises the most money from the most donors. The Student Challenge will provide the student club or organization that comes out on top with a $2,000 activity grant. The Community Challenge will provide up to $3,000 to support a regional community-based initiative for the community organization that raises the most money from the most donors during the ECSU Day of Giving. The IGTAM "I Give Ten a Month" Challenge will award an additional $2,000 award to the entity that encourages the most new donors to commit to a recurring donation to the University of at least $10 a month.
ECSU is an integral part of the community, and the university seeks to promote economic, social, and environmental progress for the people of Elizabeth City, Northeastern North Carolina, the state, and the nation. With broad support from constituents, ECSU will continue to be a leading regional partner in offering world-class teaching, learning, research, and service for many years to come.
---