ECSU announces 2016 Departmental Teachers of the Year
---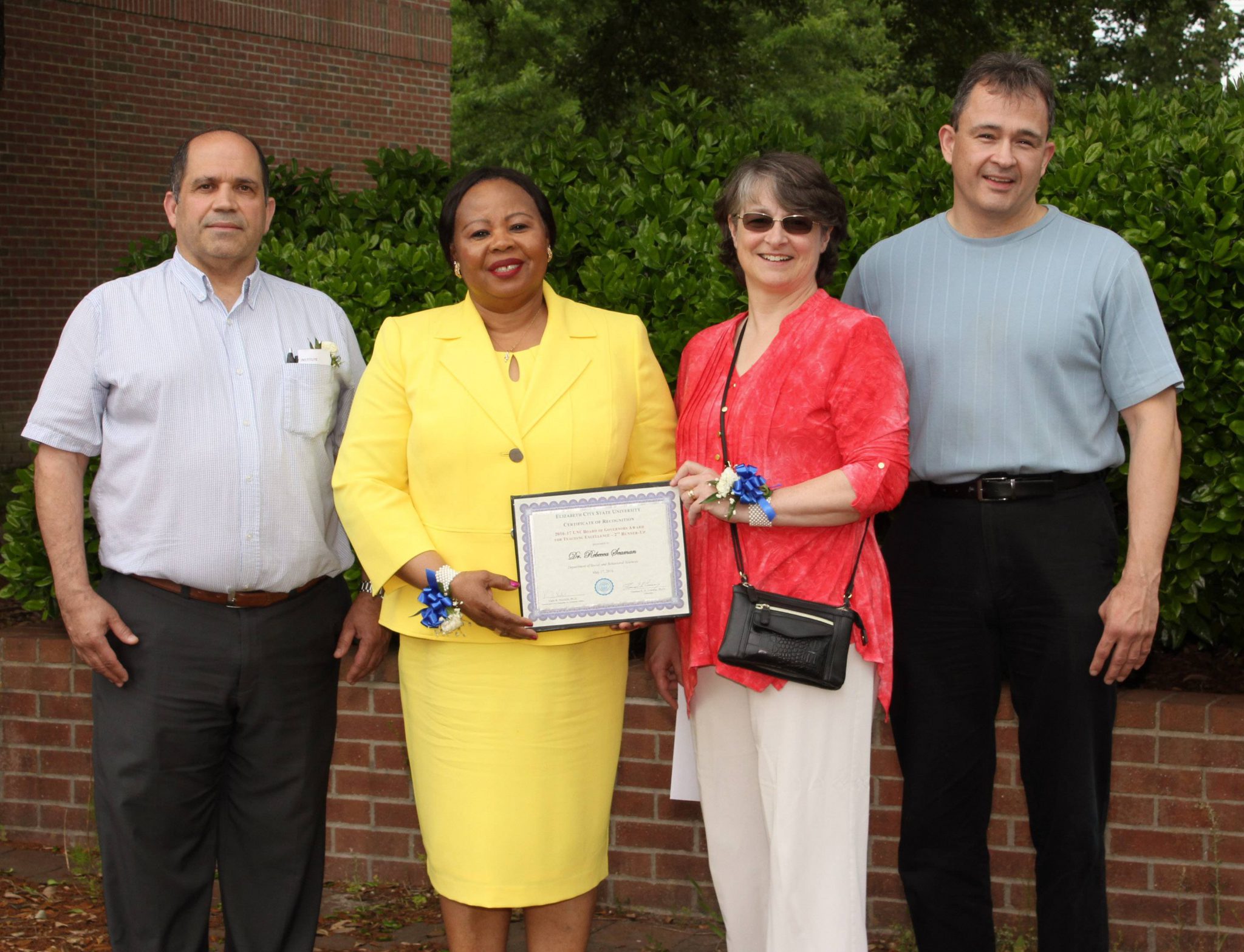 By Kesha Williams
Each year, ECSU proudly announces faculty members who are recognized for outstanding accomplishments as instructors. The list of 2016 Departmental Teachers of the Year follows:
Dr. Dipendra Sengupta, a professor in the Department of Mathematics and Computer Science –Sengupta earned a Ph.D . and M.S. in Mathematics from the State University of New York, Stony Brook, N.Y. and M.S. and B.S. in mathematics from the University of Kalyani, India.
Dr. Debjani Kanjilal, an associate professor in the Department of Business and Economics. Kanjilal earned a Ph.D. in Business Administration with a concentration in economics from the University of Memphis an M.A. in economics, University of Memphis an M.Sc. , B.Sc. in economics from the University of Calcutta. Her research interests include: Labor &amp Health Economics, Applied Econometrics. Teaching areas: Principles of Microeconomics, Principles of Macroeconomics, Money, Credit &amp Banking, and International Economics.
Dr. Mehran Elahi a professor, Department of Technology. Elahi holds a Ph.D. in Engineering Science and Mechanics from Virginia Polytechnic Institute and State University and M.S. and B.S degrees in mechanical engineering from Mississippi State University. He was a Post Doc Fellow at the University of Tennessee in Knoxville (Mechanical and Aerospace Department) and Oak Ridge National Laboratory (Engineering Technology Division) where he worked on projects dealing with lightweight structures for offshore and automotive applications respectively. He served as the department chairperson from 2006 to 2011. His academic research trainings are in solid mechanics, experimental characterization, theoretical modeling and failure analysis of engineering materials with special emphasis on polymeric and ceramic matrix composite materials with aerospace, offshore and high temperature applications. Currently, he is also involved in Renewable Energy Technologies and the curriculum development for the related technologies.
At its September 1993 meeting, the UNC Board of Governors adopted a report on Tenure and Teaching in the University of North Carolina. The report, prepared jointly by the Board's Committee on Personnel and Tenure and its Committee on Educational Planning, Policies, and Programs, reaffirmed the Board's insistence that teaching is the primary responsibility of each of the 17 constituent institutions of the University. To underscore the importance of teaching and to encourage, identify, recognize, reward, and support good teaching within the University, the Board adopted a set of six specific recommendations, including the following:
That the Board of Governors create annual systemwide teaching awards with monetary stipends which are designated &quotBoard of Governors Awards for Excellence in Teaching.&quot
Each recipient is honored at their respective campus spring commencement ceremony by a member of the Board of Governors and receives a $12,500 stipend and a bronze medallion.
The recipient of that award at ECSU, was Dr. Ngozi Oriaku, tenured professor in the Department of Business and Economics where she teaches undergraduate courses in Management, International Business, and Human Resource Management. She joined Elizabeth City State University in 1988. With nearly thirty years of teaching experience, Dr. Oriaku is very passionate about finding the most effective ways of motivating and sustaining intellectual growth and promoting active learning among the students that register for her classes. Dr. Oriaku earned a Ph.D. in International Affairs and Development from Clark Atlanta University, an MS in Business Management from Norfolk State University and a BS in Business Administration from the University of District of Columbia in Washington, DC.
The runners up for that award at ECSU were:
1st runner-up
Dr. Glen Bowman, a professor of history and the director of International Programs. He served as chair of the Department of History and Political Science from 2008-2011. He became director of International Programs in October 2013. He teaches World Civilizations II, as well as upper-level courses in European History and World History, and has published a number of articles on the religious and political history of the sixteenth century and on pamphlet literature of the Reformation. He has also written and edited THE RAZOR'S EDGE, a critical thinking text/World History reader. The royalties from the book have been used to fund the Leonard Ballou Memorial Fund, which has been tapped to fund student scholarships since 2005. He earned the Ph.D. in History at the University of Minnesota. Originally from suburban Philadelphia, he has been at ECSU since 1999.
2nd runner-up
Dr. Rebecca Seaman, a professor in the Department of Social and Behavioral Sciences- Seaman serves as a full professor in the Dept. of Social and Behavioral Sciences (History) and as the History Education Coordinator. She earned her BSED in Social Sciences (Secondary Education) from Columbus State University (1983), M.A. (1989) and Ph.D. (2001) in History from Auburn University (fields of expertise: Early American, Modern American, British, Early Modern European, Modern European). Dr. Seaman's specialty is in Colonial American History, specializing in Native American Studies. Dissertation: Native American Enslavement in Proprietary Carolina: A Causality Study. Master's Thesis: Jacksonian Indian Policy: A Historiography. Seaman additionally serves on the boards of the &quotFriends of the Museum of the Albemarle&quot (Elizabeth City) and is the Vice-Chair for the &quotFriends of the Archives&quot (Raleigh, NC).
---