ECSU and SeaSpace Corporation sign memorandum of understanding
Posted On February 13, 2012
---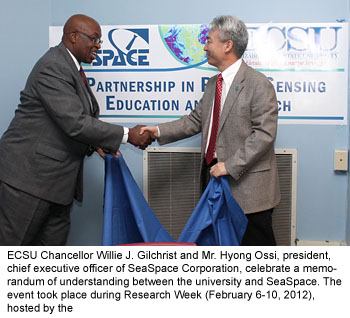 Kesha Williams
February 13, 2012
On Feb. 7, Elizabeth City State University's School of Mathematics, Science and Technology welcomed guests for the signing of a memorandum of understanding between ECSU and SeaSpace Corp., an international leader in remote sensing technology and the world's leading weather information provider.
Under the terms of the agreement, ECSU will serve as a TeraScan Remote Sensing training and satellite data collection facility for SeaSpace customers and clients on the East Coast. SeaSpace will set up and maintain its TeraScan equipment at ECSU's Center of Excellence in Remote Sensing Education and Research (CERSER). In exchange, ECSU faculty and students will be included in the training SeaSpace provides to its clients. The university also will receive software upgrades and support for the new antennas, servers and equipment at no charge.
The satellite data collection facility will include a 2.4m X/L Polar Orbiter antenna system, a 5.0m Geostationary L_Band antenna and a 3.7m C-Band antenna and their associated acquisition and processing servers.
The new acquisition and processing servers will greatly expand the capabilities of ECSU's CERSER, which collaborates with outside organizations on polar ice sheet, coastal, ocean and marine research. In late 2008, ECSU was the first historically black college and university (HBCU) to create a large-scale distributed computing system to aide in the processing of data collected during polar expeditions.
The university's continuing and expanded relationship with SeaSpace gives ECSU students an opportunity for learning and training with important cutting-edge research technology.
Under the five-year agreement, SeaSpace also will host a TeraScan user's conference at ECSU within the next two years.
---