ECSU and NC Civil Rights Trail to Unveil Historic Marker Honoring Civil Rights Student Activists
Posted On October 3, 2022
---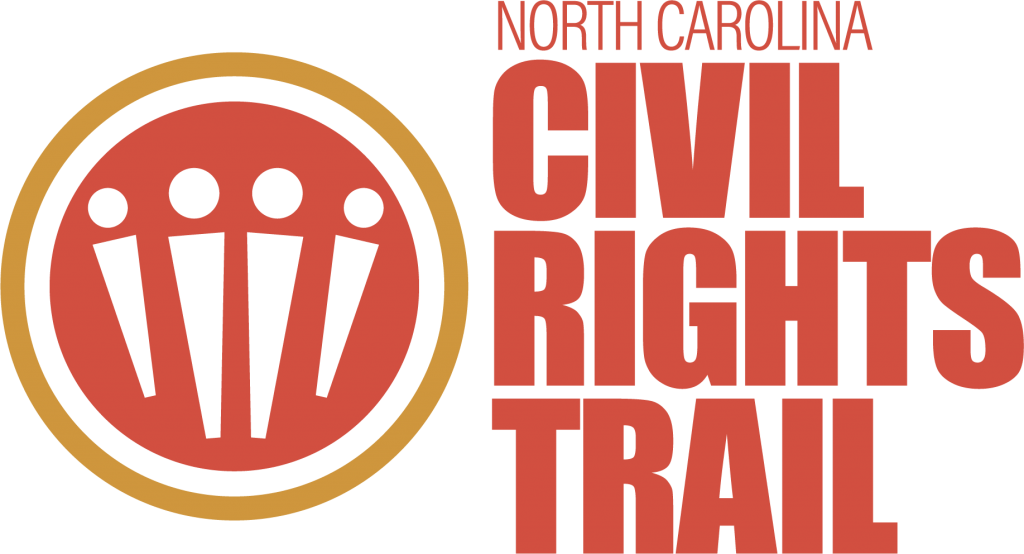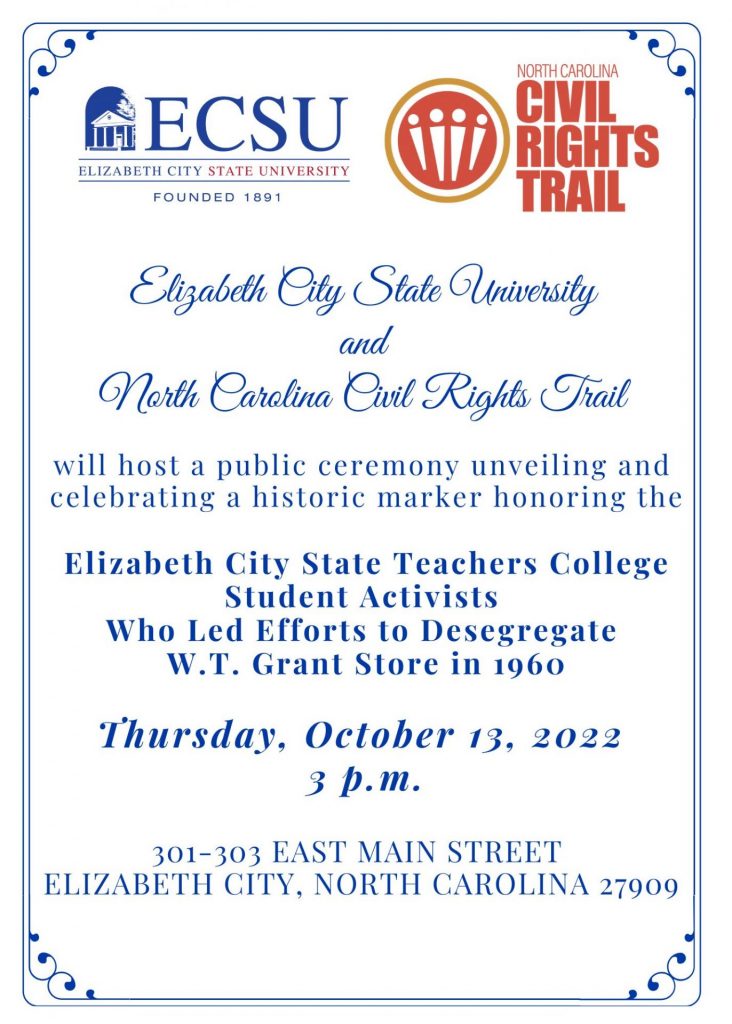 Elizabeth City State University (ECSU) and the North Carolina Civil Rights Trail will unveil a historical marker honoring Elizabeth City State Teachers College (ECSTC) students who led early sit ins in 1960. The unveiling and celebration are scheduled for Thursday, October 13, 2022, at 3 p.m. at the site of the former W.T. Grant Store, 301-303 East Main Street, where the sit ins began.
In February 1960, a group of students from Elizabeth City State Teachers College (now ECSU) changed downtown Elizabeth City forever.  In defiance of Jim Crow, they chose to sit in at the lunch counter of the W. T. Grant Department store at 301-303 East Main Street. Until now, this episode of civil rights history has been largely forgotten.
This marker will be the first of its kind in Elizabeth City and Pasquotank County. It is part of the North Carolina Civil Rights Trail, a venture funded by the William G. Pomeroy Foundation, supported by North Carolina Office of Archives & History and Visit North Carolina, and led by the North Carolina African American Heritage Commission. The Commission is working with communities across the state to designate up to 50 sites where trail markers will be placed.
The marker is the result of a grant application ECSU submitted in 2021 with the support and approval of Elizabeth City government, in particular, the 2020-2022 Elizabeth City Council and then-mayor Betty Parker.
About Elizabeth City State University
Elizabeth City State University provides students with a high-quality, affordable education as one of North Carolina's leading four-year public institutions that is part of the University of North Carolina System. ECSU develops leaders who are courageous, resilient, and empowered through excellent student-centered, experiential learning. We offer baccalaureate, professional, and master's degrees across a wide variety of interests. Excellence is the standard at Elizabeth City State University – success is our legacy. Come to Discover. Leave to Conquer. Visit ecsu.edu.
About the N.C. African American Commission
Created in 2008, the African American Heritage Commission is a division of the N.C. Department of Natural and Cultural Resources. The Commission works across the department to preserve, protect and  promote the state's African American history, art and culture for all people. Its endeavors include the identification of heritage sites, compiling resources for educators, extending the work of national programs such as the National Park Service's Network to Freedom Underground Railroad and independent initiatives including the NC Civil Rights Trail. aahc.nc.gov.
About the North Carolina Department of Natural and Cultural Resources
The N.C. Department of Natural and Cultural Resources (NCDNCR) is the state agency with a vision to be the leader in using the state's natural and cultural resources to build the social, cultural, educational and economic future of North Carolina. NCDNCR's mission is to improve the quality of life in our state by creating opportunities to experience excellence in the arts, history, libraries and nature in North Carolina by stimulating learning, inspiring creativity, preserving the state's history, conserving the state's natural heritage, encouraging recreation and cultural tourism, and promoting economic development.
---