ECSU and Golden LEAF Foundation Celebrate Golden LEAF Scholars
Posted On September 29, 2021
---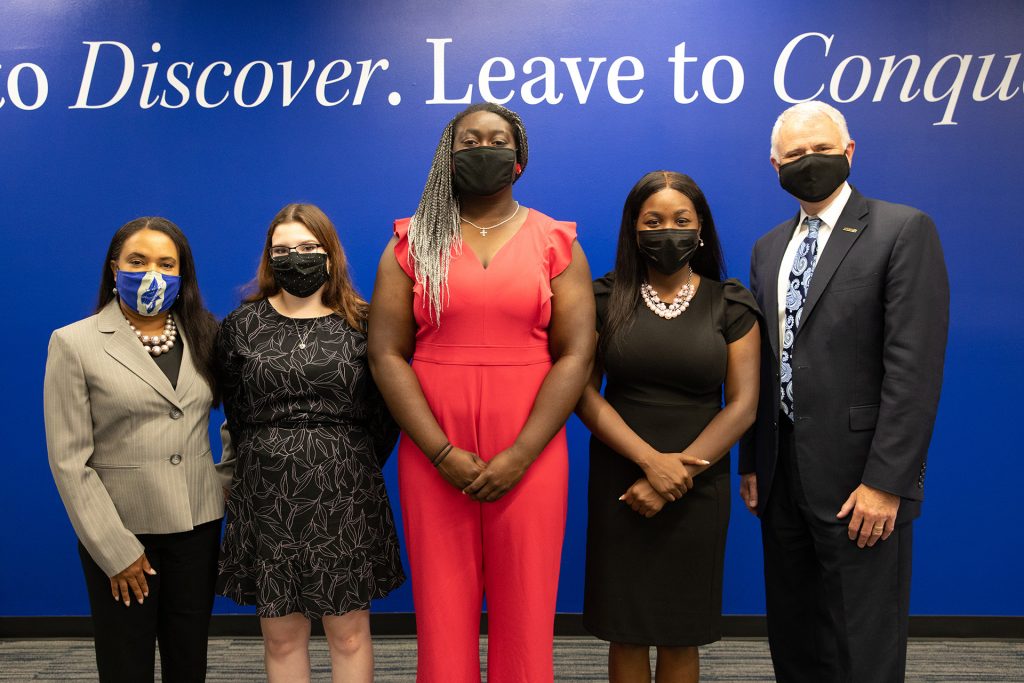 A reception for ECSU's Golden LEAF scholars was held Tuesday, Sept. 28. Chancellor Karrie G. Dixon, far left, and Golden LEAF Foundation president, Scott T. Hamilton, helped celebrate scholars, Faith Ashley, second from left, Alexus Elliott, center, and Jayla Hall.
Jayla Hall's future is in motion, thanks in part to a Golden LEAF Foundation scholarship. As a Golden LEAF scholar, the Elizabeth City State University senior and kinesiology major says not only has she been afforded the opportunity to work as a paid intern that will lead to a full-time position upon graduation, but she will also graduate debt free.
"Being a Golden LEAF scholar has honestly helped many of my dreams become reality," Ms. Hall said during a reception honoring her and two other ECSU Golden LEAF scholars Tuesday, Sept. 28. Along with Ms. Hall, Faith Ashley and Alexus Elliott, both seniors and biology majors, were honored as ECSU's current Golden LEAF scholars.
The Golden LEAF Scholarship was created to improve access to education and workforce training to support the long-term economic advancement of rural North Carolina. The scholarships provide students of rural North Carolina the opportunity to attend one of the state's universities in an effort to provide the students with the skills and knowledge necessary to help build a strong foundation for the state's rural economy.
Scott T. Hamilton, the Golden LEAF Foundation president and chief executive officer, spoke at the reception, congratulating the students on their success at not only being successful students, but being Golden LEAF scholars in a competitive field of applicants from across the state.
"It is a very competitive scholarship," he said. "Last year, 1,500 students applied for 215 scholarships. So, these students are stars."
Ms. Hall said for the past two summers, she has had a paid internship. Thanks to that paid internship, she knows that upon graduation, she will have a full-time position. 
"Without Golden LEAF, many of my goals would not easily be attainable," said Ms. Hall. "Money for tuition can be difficult."
Mr. Hamilton said the Golden LEAF Scholarship is an investment in the future of rural North Carolina. A majority of the scholars report returning to their communities to contribute to and help build their economies, he said.
ECSU's vice provost, Dr. Gloria Payne, said many of the university's students are the first in their families to attend college. As a native of rural Northeastern North Carolina, she said Golden LEAF provides a needed opportunity to those students and for change in their communities.
"In our rural areas, we need these resources to help these students," said Dr. Payne.
Aside from awarding scholarships, the Golden LEAF Foundation has been instrumental in providing funding for various university projects, such as ECSU's "Project Gap," a workforce development program. In 2020, ECSU was awarded $385,000 by Golden LEAF, launching a program that is working to fill the gap in the workforce throughout rural Northeastern North Carolina.
"You are helping ECSU fund projects that have a huge impact on our campus," Chancellor Karrie G. Dixon said during Tuesday's scholarship reception.
Chancellor Dixon said ECSU continues to grow and working with Golden LEAF is a contributing factor in that growth.
The Golden LEAF Scholarship Program is open to high school seniors and community college transfer students who "reside in a qualifying rural, economically distressed, tobacco-dependent North Carolina county and area planning to enroll full time in a participating public or private college or university located in North Carolina."
For more information about the scholarship program, go HERE.
---