ECSU and Community Officials Celebrate STEM Complex Grand Opening
Posted On August 13, 2019
---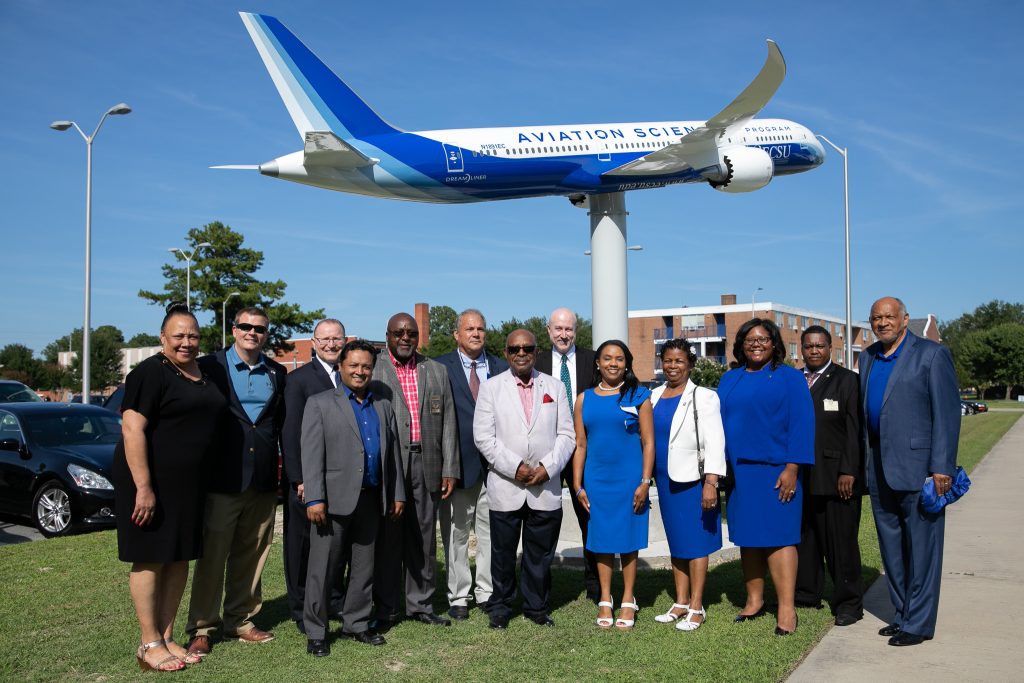 A flyover by Elizabeth City State University chief flight instructor, James Young, kicked off the grand opening ceremony of the STEM Complex Monday, Aug. 12. As Young soared overhead, ECSU officials were joined by Elizabeth City government and community leaders celebrating the beginning of a new chapter for the state-of-the-art facility.
"Today, we celebrate the renaming of the former Pharmacy Complex to the STEM Complex to better support the realignment and placement of our academic programs," ECSU Chancellor Karrie Dixon said. "ECSU is rising up. We are engaging students and inspiring success."
The STEM Complex will house two new academic departments – the Department of Health and Human Studies that includes: Pharmaceutical Science, Social Work, Psychology and Kinesiology; and the Department of Aviation and Emergency Management that includes: ECSU's signature Aviation Science Program, the new Unmanned Aircraft Systems Program, and Emergency Management.
"Nearly nine years after its opening, the STEM Complex will have its second ribbon cutting to house our two updated state-of-the-art academic programs," Provost Dr. Farrah Ward said. "Spanning over 52,000 square feet, this STEM Complex houses five flight simulators, a drone lab, air traffic control lab, IV simulation and compounding lab, and faculty research facilities."
After the ribbon cutting ceremony, attendees were able to fly in a flight simulator and experience first-hand the ECSU air traffic control lab. They also were able to see the numerous unmanned aircrafts (drones) that will be part of the new unmanned aircraft systems program.
The historical timeline of the history of African Americans in flight was on display as well as portraits of the pioneers of flight. These displays were made possible by the UNC Morehead Planetarium, First Flight Society, and Dr. Ulysses Bell.
Outside, attendees were greeted by a model of a Boeing 787 Dreamliner, another visual representation of ECSU's signature program.
"There is a pride that goes beyond that personal pride, it is a communal pride," Board of Trustees Vice Chair Jan King Robinson said. "It is the pride in the satisfaction of the positive outcomes that we are witnessing today."
With 10 fixed-wing aircraft and one gyrocopter in its fleet, ECSU is home to North Carolina's only four-year aviation degree program. This fall also marks the debut of the university's new drone degree program.
---