ECSU alumnus enjoys cybersecurity career
Posted On January 8, 2016
---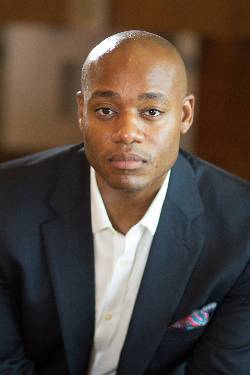 By Kesha Williams
If you thought you'd learned all you need to know about your smartphone, stand by. New services and features loaded on an array of mobile devices are just over the horizon.
ECSU alumnus, Dr. Timothy Summers, says we are approaching the decade when smart phones will routinely be used in place of credit cards to purchase meals, services and goods. By day, Summers is director of Innovation, Entrepreneurship and Engagement at the University of Maryland. There, he teaches courses and conducts research related to cybersecurity. Summers is also president of Summers &amp Company, a cyber strategy and organizational design consulting firm.
Last year, he earned a doctoral degree from the Weatherhead School of Management at Case Western Reserve University. It completed a long trail of study that began with middle school age computer hacking incidents and later courses at ECSU that he fondly recalls. Fortunately, the technology boom occurred as Summers was advancing from those formative years at ECSU. From there he moved to Carnegie Mellon University where he completed a master's degree in information security policy and management. He has served as a consultant to Fortune 500 companies worldwide. Now, he juggles a hectic schedule of teaching, researching, and steady stream of public speaking engagements. Asked if he anticipated cybersecurity becoming such a hot topic, he said yes.
"I've appeared on a number of networks, CNBC, FOX, a Canadian TV business news network and a few others. I've also been a guest speaker at large bank conferences, academic institutions and government agencies because people are still learning about the implications of sharing so much data over the internet," Summers said. "Media allows you to interact with a general public audience but reach a very specialized group of people who speak the language of hackers and cybersecurity professionals."
Summers often gives the general public tips on internet safety measures. Other invitations come from banks, mortgage companies and retailers who store large volumes of customer information who bare the responsibility of protecting that information. Add to the equation the 64 percent of Americans the Pew Research Center reports who use smart phones and they conduct personal financial management transactions. Whether they are exchanging email messages, images with family and friends or shopping online, data is frequently traveling across the internet. In some cases, that data is at risk of being stolen and misused by thieves. It's all led to a sense of urgency.
"Some sense of urgency has existed since the 70s especially in the case of research institutions and government agencies who knew they had to protect their research projects," Summers said. "People like Steve Jobs and Bill Gates are credited with commercializing computers that led to the mass public use we see today."
Summers says people need not think this technology surge will end. Instead, he suggests we keep alert and continue learning. The public has already witnessed the development of thin mobile phones followed by larger screen phones and a return to thick body devices. All of the design changes were part of an effort to help the public become familiar with mobile devices.
He says young people who are curious and determined to learn, will find future job descriptions won't be limited to cyber security. They will find jobs related to security system designs, software development, architecture, mathematics and data science. Summers also recommends consumers learn more about precautions that have been necessary for online merchants over the last decade.
"While individuals haven't seen as many instances of computer hacking as healthcare companies, retailers and banks, it can happen. Realize that social networking sites capture large pools of users who are often exchanging data about themselves," Summers said.
That information, he warned, could eventually appeal to hackers who decide to prey on individuals. In the meantime, he advises us to keep alert of new developments and never think the learning process is over.
*This feature story is one of many in a series of stories that spotlight ECSU alumni.
---