ECSU alumnus earns Best Non-profit of the Year award
Posted On February 4, 2016
---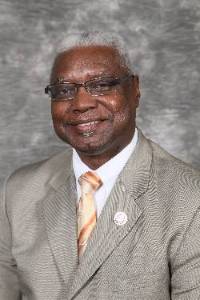 By Kesha Williams
On January 28, the Chamber held its 105th annual dinner meeting at the K. E. White Center where Kelly Thorsby, director of the Chamber of Commerce, gave awards to their ambassador of the year, volunteer of the year, non-profit of the year and business of the year. A committee of the Chamber reviews nominations and selects winners for the award. ECSU alumnus, Bishop Ernest Sutton and his wife, Valeria, accepted the Elizabeth City Area Chamber of Commerce's 2015 Best Non-profit of the Year Award on behalf of Faithway Apostolic Church.
Faithway Apostolic Church, located on 304 Bell Street, held a picnic for first responders last year and a small business career fair in collaboration with the Northeastern Workforce development. The church also arranged a delivery van with the Mobility Center of Norfolk to Waterbrook Assisted Living.
"When we were discussing the non-profit of the year nominations, I felt Faithway Apostolic Church should be a winner for these entries alone, but a lot more appeared on their nomination form. I love it that we recognize non-profits because they are important to the community and they are always giving back," Thorsby said. "I added this category to our awards dinner four years ago when I became president and we are so appreciative of the sponsors who make this annual dinner possible."
While the Suttons expressed their joy of serving the community as a family, Bishop Sutton explained he takes great pride in serving the community he grew up in. Sutton is a former member of the ECSU Board of Trustees.
ECSU is a member of the Elizabeth City Area Chamber of Commerce. The university's radio station, WRVS-FM 89.9, features Kelly Thorsby in a radio show every third Wednesday of the month.
---