ECSU Alumni Honored with Historic Markers as Tribute to Civil Rights and Women's Suffrage Advocacy
Posted On October 27, 2022
---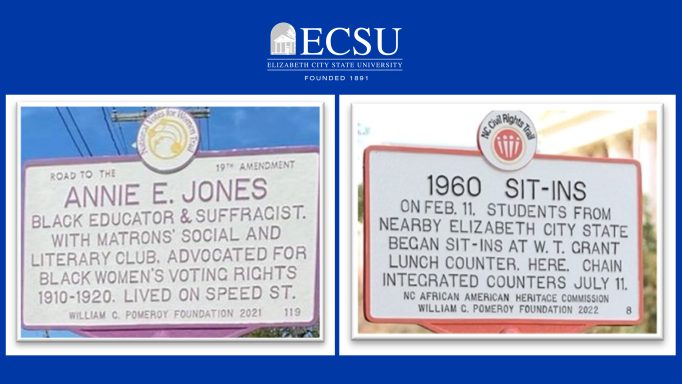 The historic efforts of five Elizabeth City State University (ECSU) student activists and an alumna who led the Women's Suffrage and championed voting rights for African Americans were honored with historic markers in Elizabeth City in October.
Ms. Annie E. Jones – Women's Suffrage Leader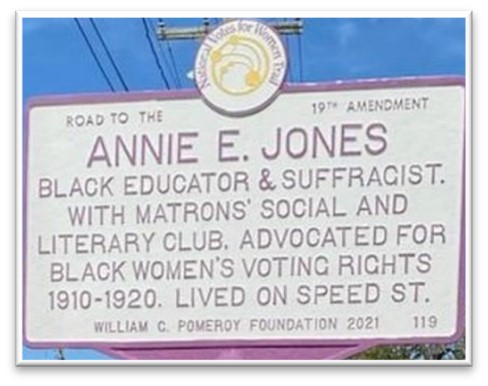 On October 22, 2022, a marker commemorating alumna Annie E. Jones was unveiled in front of the fellowship hall of the Corner Stone Missionary Baptist Church. It celebrates Jones' legacy and courageous commitment to Black women exercising their right to vote.
The Annie E. Jones Marker is one of only three trail markers in North Carolina. ECSU history professor Melissa N. Stuckey, Ph.D., applied for the Annie E. Jones marker.
Jones was a member of the Matrons Social and Literary Club of Elizabeth City. This club was part of the National Association of Colored Women's Club (NACWC) whose platform included advocacy for Black women's voting rights.
After the passage of the Nineteenth Amendment, Jones organized voter education classes for Black women in Elizabeth City and Pasquotank County to prepare Black women to pass a literacy test put in place in North Carolina in 1901 to alienate Black male voters. By organizing these classes and speaking publicly in support of Black women voting, Jones demonstrated considerable courage in advocating for voting rights during this era of Black disfranchisement.
"We owe Alumna Jones a debt of gratitude," said ECSU Chancellor Karrie G. Dixon at the ceremony. "Her leadership and a passionate advocate for Black women's suffrage serve as an example to all of us. She is a model for our current students who today have been blessed with the right to raise their voices and exercise their right to vote."
Dixon continued, "Alumna Jones was a trailblazer and what we today would call a non-traditional college student. She was already a wife and a mother when she came to our institution. She took the opportunity to attend college, which at that time had existed for less than a decade."
Jones graduated in 1901, and went on to become a teacher in the Elizabeth City public school system. She excelled in her profession, rising from teacher to school principal in just a few years.
In 1903, the Alumni Association was established, and Jones served as an officer or board member for 18 years, including vice president and president for five of those years. She was also a major donor who consistently gave back to her alma mater through annual giving and fundraising. The monies Jones helped raise contributed to enhancing the campus for students who came after her.
Jones was a member of Corner Stone Missionary Baptist Church and lived on Speed Street in Elizabeth City. The marker is located on Corner Stone's property on Road Street, near Speed Street, a few hundred feet from Jones's former home.
The National Collaborative for Women's History Sites and William G. Pomeroy Foundation partnered to launch this new historic marker program memorializing the U.S. women's suffrage movement.  The private, grant-making Pomeroy Foundation is providing funds through its National Women's Suffrage Marker Grant Program.
ECSU Student Civil Rights Activists
October 13, 2022, ECSU and the North Carolina Civil Rights Trail unveiled a first-of-its-kind historical civil rights marker in Elizabeth City and Pasquotank County at the site of the former W.T. Grant Store. It honors Elizabeth City State Teachers College (ECSTC) student activists who changed downtown Elizabeth City and history forever by taking seats at the whites-only lunch counter. Dr. Glen Bowman, ECSU professor of history, spearheaded the application for the marker.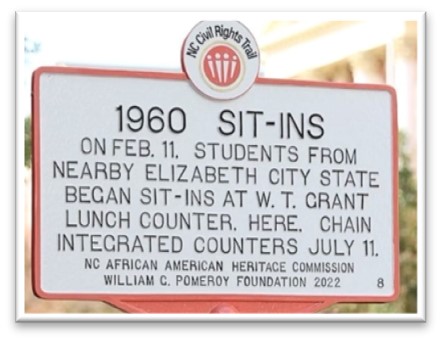 In February 1960, African Americans were only allowed to shop at the department store, but could not sit at the lunch counter. Five ECSTC students took seats in defiance of Jim Crow, and until now, this episode of civil rights history has been largely forgotten.
"We honor and pay tribute to five brave trailblazers who paved the way for the freedom and privileges we enjoy today. In 1960, our world and our community looked very different than it does now," said ECSU Chancellor Karrie G. Dixon. "Students at then Elizabeth City State Teachers College experienced the injustices of segregation and Jim Crow laws here and throughout the South.
"These courageous young people sat down while standing up for the rights of their fellow students and African American members of the entire Elizabeth City community. They were fearless in risking the backlash for exercising civil disobedience."
The only surviving member of the original five ECSTC student activists, James Swimpson, was present at the historic marker unveiling. He noted that none of the students wanted to be recognized for their participation in the sit-ins in 1960 because "recognition could have meant retribution at that time in this town."
At the first sit-in in February 1960, the wait staff ignored the five students for hours and did not call police. "We were definitely a bit unnerved because there wasn't police presence – because police in other towns and cities were doing some pretty ragged things with students who were involved in sit-ins," said Swimpson.
During his remarks, Swimpson revealed he had never talked with his children about his role in the sit-ins because he did not feel he should brag about it. "I was very proud, but it was inward proud. I carried that until today. Today, I have with me my children, my grandchildren, my great grandchildren and I pray they don't have to go through what we had to go through to sit down to eat a sandwich.. I praise God that I'm still able to relay this message and share this message with all of you."
This historic trail is a venture funded by the William G. Pomeroy Foundation, supported by North Carolina Office of Archives & History and Visit North Carolina, and led by the North Carolina African American Heritage Commission. The Commission is working with communities across the state to place markers at 50 sites by the end of 2023.
The marker is the result of a grant application ECSU submitted in 2021 with the support and approval of Elizabeth City government, in particular, the 2020-2022 Elizabeth City Council and then-mayor Betty Parker.
---