ECSU alumna speaks for fall convocation
Posted On September 25, 2012
---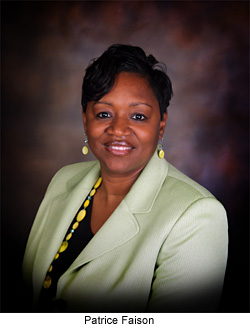 Kesha Williams
September 25, 2012
Elizabeth City State University welcomed alumna, Patrice Faison as the speaker for the 2012 Fall Convocation and Candlelighting Service on September 23. The Fall Convocation and Candlelighting is held to welcome the freshman class and provides them with a formal introduction to the underlying purpose of ECSU and the university's expectations of them as students. During the ceremony, class officers were installed:
Freshman Class President- McKinley Strother
Sophomore Class President-Canisha Young
Junior Class President- Gabrielle Thorne
Senior Class President-Tederal R. Burwell
Faison is the 2012 Wells Fargo North Carolina Principal of the Year. She is an outstanding school leader with more than 17 years of experience in education. As the 2012 Wells Fargo North Carolina Principal of the Year, Faison will participate on the State Superintendent's Principals' Advisory Committee, serve a one-year term as advisor to the State Board of Education and serve a one-year term on the Board of Directors for the NC Public School Forum. She began her career as an elementary school teacher in Stokesdale, North Carolina. She went on to serve as the Middle College Liaison and a member of the faculty at North Carolina A &amp T State University. On Sunday, she informed ECSU freshmen that her accomplishments as an educator didn't occur without challenges along the way. She credited her family and friends with providing much needed support during her undergraduate years. Yet, it was her experience at ECSU that prepared her for a triumphant life. &quotViking family you provided more than a degree. You placed me back on a path of success! The support and love I felt, as part of the ECSU family will never be forgotten. I received the gift that no one can take away– the gift of education,&quot Faison said. &quotTonight as you listen to my words know freshmen I have sat in your seat. I have spoken your words of excitement, felt your feeling of fear and hope. But most of all, I have received the same quality education you are receiving and can assure you this is only the being of the successful endeavors to come your way as a part of the ECSU family.&quot Faison said her work as a public school educator has allowed her to work with students who live in poverty. However, she assures students their current socioeconomic status is not a prediction for their future. &quotEducation is a revolving door. Education means hope. Hope for a brighter tomorrow and hope to ignite a renewed purpose today. Education is essential for our future and is a joy to receive and provide.&quot Faison took her first job as a principal in 2007 at The Academy at Smith in Greensboro and moved to Oak Hill Elementary School in High Point three years later. On July 1, 2012 Faison became the principal of Page High School also in Guilford County. Faison received her bachelor's degree in Elementary Education from Elizabeth City State University, a master's degree in Elementary Education and a Master's degree in School Administration from North Carolina A &amp T State University. She is currently working toward her Doctorate of Education from the University of North Carolina at Greensboro. She achieved National Board Certification in 2000 and has received a number of awards including Guilford County Schools' Principal of the Year in 2011 and Stokesdale Elementary School Teacher of the Year in 2001. She and her husband Edward are the proud parents of two sons, Denzell and Miles Faison. Denzell is a rising junior at Duke and Miles a rising freshmen in high school.
---