ECSU Alum Pam Hurdle Named Hertford Interim Town Manager
---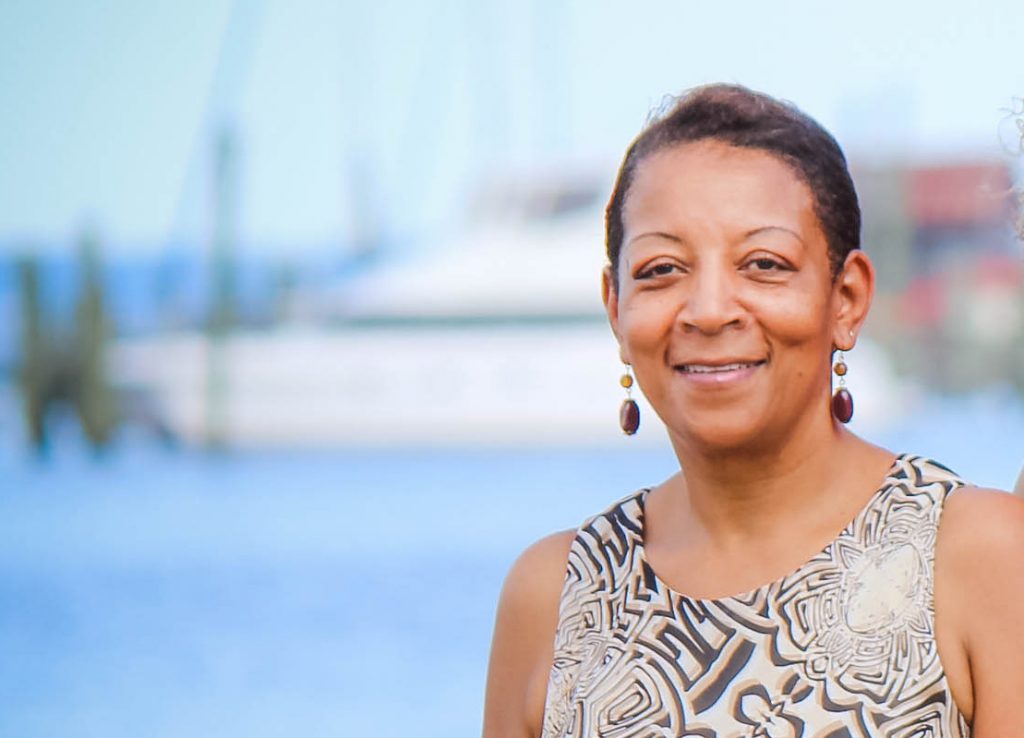 When Pam Hurdle graduated from Elizabeth City State University in 1999, the then 38-year-old mother of three figured she would put her social work degree to good use at the Department of Social Services. But the Gates County native needed a job, and an administrative assistant's position came open in the Town of Hertford, so she grabbed it.
That turned out to be a smart move for Hurdle, who was named the Town of Hertford's interim town manager last month.
"It's very busy," Hurdle said of her new position. "Nothing has come that I can't handle. It's just putting into action what I have worked on all of these years and then being totally responsible for that."
Hurdle says after first signing on with the Town of Hertford, her bosses saw the potential that she brought to her job. As each year passed they would give her more responsibility until, right around her fifth year there, she was named executive assistant to the town manager.
"Then I started taking on assignments with (town) zoning," she said. "Whatever he did, I did."
And that last fact is what made all of the difference for Hurdle. Thanks to her years of experience, when Hertford's last town manager, Brandon Shoaf, took a position elsewhere, the town council turned to her to fill the void – for the time being, at least.
She says when the town's elected officials first approached her about being the interim manager, she said no. She knows, she said, the "level of responsibility and stress."
But eventually, after being approached again, she relented and took over as the municipality's chief administrative officer.
Hurdle says the possibility of taking on the role permanently has been presented to her, but she's not committed just yet.
"I'm not saying no to it," she said.
Hurdle's path to becoming town manager has been a long one. She was in her mid-30s when she enrolled at ECSU.
She had graduated from high school in Gates County in 1980, and had attempted to start a career in nursing.
"But I found out it wasn't for me," she said.
So when she enrolled at ECSU, she was determined she would seek a career where she would be most useful to people. Social work fit that bill and with a whole lot of drive, Hurdle became a college student while she was raising three children and working as a manager at the former Golden Corral in Edenton.
"I knew what I wanted and was determined to get there," said Hurdle.
Her journey through ECSU only took her four years, but as a non-traditional student she realized that she had her work cut out for her.
"As a non-traditional student you had to be committed," said Hurdle. "I didn't stay on campus. I had to work. I had a family. And I had school work."
Hurdle says that when she reflects back on her time at ECSU, she is grateful for the "excellent and patient" faculty. She also recalls that even though she was an older student, there was still comradery with the younger, traditional college-age students.
And her life experience as a working adult was something she could share with the younger students.
"As a non-traditional student, we helped the traditional students stay on task," she said.
Today Hurdle has a master's degree in public administration and is working on her doctorate, also in public administration. And while she is committed to the work at hand, running the Town of Hertford, she looks forward to one day using that Ph.D., and teaching at a university.
For Hurdle, life changed once she had that degree under her belt. Her time at ECSU has made all the difference.
"I knew I wanted to get that degree and wouldn't let anything stop me," she said.
---