ECSU, AeroX, and Piedmont Flight Training Join Forces to Expand Aviation Workforce, Pave Way for "Flying Cars"
---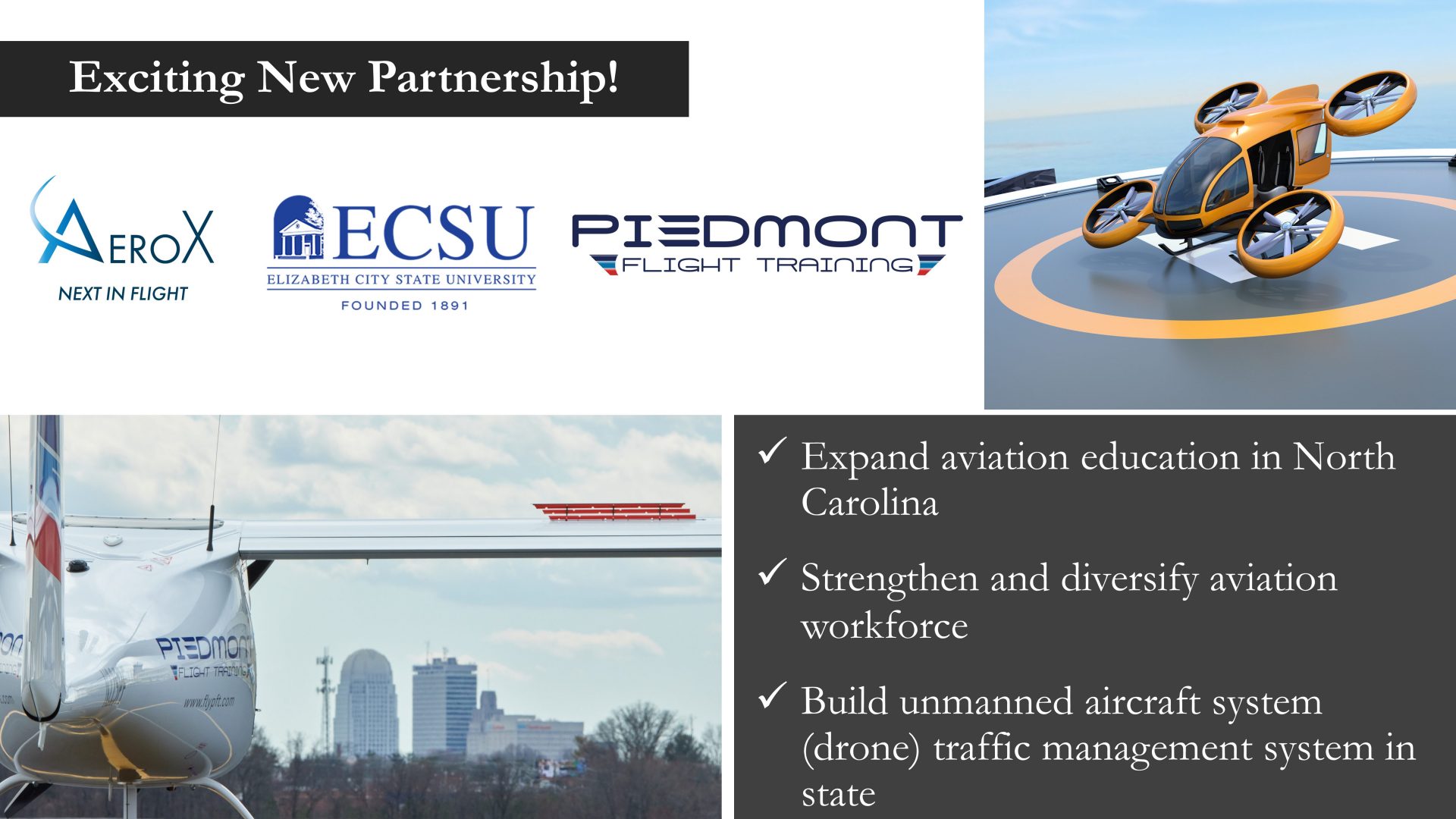 Elizabeth City State University (ECSU), AeroX, and Piedmont Flight Training are partnering to expand aviation education, strengthen and diversify the aviation workforce, and build an autonomous urban aircraft infrastructure in North Carolina. The advanced air mobility market – which will include self-driving "flying cars" [passenger drones] and electric aircraft that can deliver goods without a pilot – is expected to be $1.5 trillion by 2040, and this three-way collaboration will help build the tech-savvy labor force and infrastructure needed to keep North Carolina an aviation leader for decades to come.
This new three-way collaboration will help meet today's aviation opportunities, as well as emerging technologies of the future:
ECSU offers the only four-year Aviation Science and Unmanned Aircraft Systems degrees in North Carolina, which it will expand to the Winston-Salem region through an online aviation degree program and flight training partnership with Piedmont Flight Training (PFT). This will be the same four-year aviation degree offered in person at ECSU, and students will complete the flight portion of the degree with PFT, making the program convenient for students in the region. Students paying for flight certifications in order to enter the aviation workforce can now enroll at ECSU to complete an aviation degree. Through the NC Promise Tuition Plan, in-state students pay only $500 a semester in tuition.
Piedmont Flight Training will be ECSU's affiliated flight school partner. It will train students at its Smith Reynolds Airport facility in Winston-Salem for the university's new four-year online program in aviation science, which includes a pilot's license.  PFT will be the exclusive provider of flight training services for ECSU's aviation science degree, and will concentrate on flight education for students from Cabarrus, Davidson, Davie, Forsyth, Guilford, Mecklenburg, Randolph, Rowan, Stanly, and Union counties.
AeroX, a non-profit organization comprised of business, government and community partners, was recently awarded $5 million from the North Carolina General Assembly to build an unmanned aircraft systems (UAS, or drone) traffic management system in Winston-Salem. ECSU will provide student and faculty resources and expertise to help create this low-altitude air traffic control system. AeroX will offer two paid advanced air mobility (AAM) summer internships to provide experience in the aviation industry and support AeroX's STEM-related activities.
"AeroX is creating America's first urban air mobility system that will attract companies and create technology jobs, while Piedmont Flight Training and ECSU are preparing students for aviation careers," says David Mounts, Piedmont Flight Training owner and member of AeroX's board of directors.  "Our partnership with ECSU will help us prepare our local workforce and expand access to high-potential job opportunities right here in our communities."
ECSU Chancellor Karrie G. Dixon says, "Winston-Salem is where I was born and raised, and it's an honor and privilege to match the love of my hometown with my passion for higher education.  ECSU has a phenomenal aviation science degree, and thanks to this new collaboration, we're able to offer this opportunity to other regions of North Carolina.  We're diversifying the workforce, giving our students a bright, stable economic future, and supporting the aviation industry and our state all at the same time."
"We are currently seeing the biggest change in aviation since the jet engine," adds Basil Yap, President of AeroX and appointee to NASA's Aeronautics Research and Technology Roundtable. "Over the past five years, North Carolina has established itself as a leader in drones with the first routine drone delivery operations in the nation happening here in our state. In addition, we conducted the first public air taxi – or flying car – demonstration in the nation. This collaboration between AeroX, ECSU, and Piedmont Flight Training ensures we are giving our communities the education and training to benefit from these advancements in aviation to help our state maintain its leadership role."
The 10-year collaboration began earlier this month and can be renewed in 2032.
About AeroX
AeroX is a non-profit organization comprised of business, government, and community partners.  It is focused on facilitating the safe and efficient commercialization of unmanned aircraft systems technologies in North Carolina, along with building an advanced air mobility ecosystem in the state.  It aims to capitalize on North Carolina's prominence as an unmanned aircraft systems (UAS, or drones) innovation leader by creating a national model ecosystem for advanced air mobility and a testbed for pioneering companies seeking to leverage emerging UAS technologies to grow their companies. Learn more at www.ncaerox.com.
About Elizabeth City State University
ECSU provides students with a high-quality, affordable education as one of North Carolina's leading four-year public institutions that is part of the University of North Carolina System. ECSU develops leaders who are courageous, resilient, and empowered through excellent student-centered, experiential learning. We offer baccalaureate, professional, and master's degrees across a wide variety of interests. Excellence is the standard at Elizabeth City State University – success is our legacy. Come to Discover. Leave to Conquer. Learn more at www.ecsu.edu.
About Piedmont Flight Training
Piedmont Flight Training, a Part 141 and Part 61 flight school, is one of North Carolina's oldest flight schools with more than three decades of training future pilots in Winston-Salem, North Carolina. Its diversified fleet of 14 aircraft offers students choices and flexibility. Students training at Smith Reynolds Airport get exposure to a large airport environment without the airline volume. Ten (10) certified flight instructors offer a combined 60,000+ of flight hours. Learn more at https://flypft.com.
---