EC Chamber of Commerce Honors Coulson-Clark as Teacher of the Year
---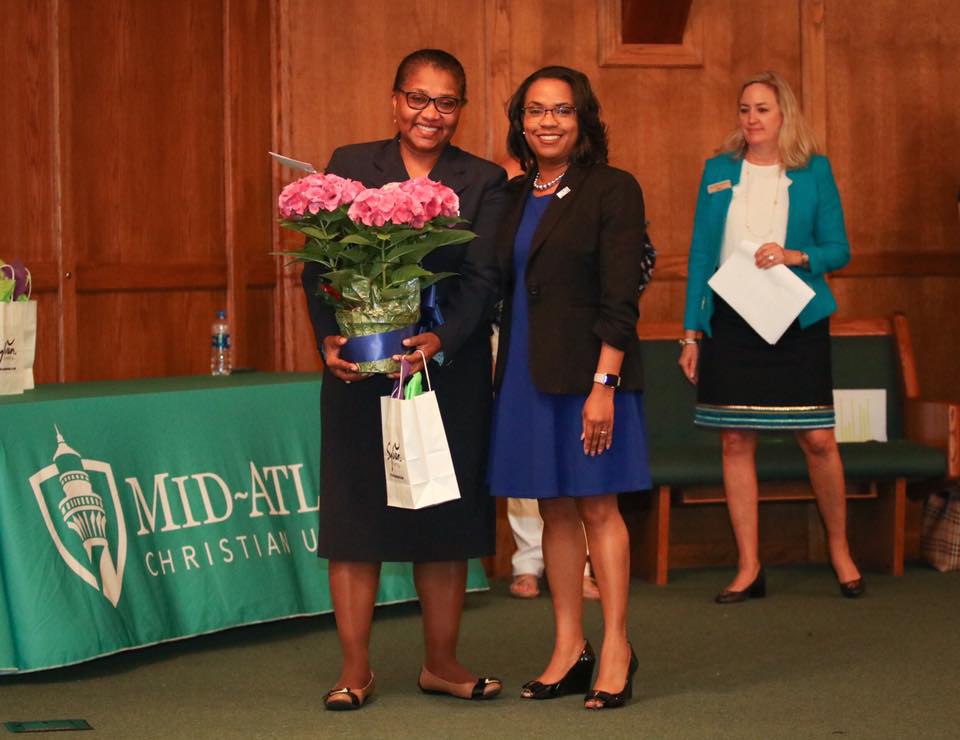 ECSU Interim Chancellor Karrie Dixon, right, congratulates Dr. Margery Coulson-Clark for being honored as one of the Elizabeth City area's eight teachers of the year during a ceremony Wednesday, May 2.
Elizabeth City State University professor, Dr. Margery M. Coulson-Clark, is one of eight educators named Teacher of the Year by the Elizabeth City Area Chamber of Commerce. Coulson-Clark and seven others were honored during a ceremony at Mid-Atlantic Christian University Wednesday, May 2.
Last month Coulson-Clark had also been named one of the University of North Carolina System Board of Governors 2018 Awards for Excellence in Teaching recipients. She will be honored for that award during ECSU's spring commencement ceremony Saturday, May 12.
During the Chamber of Commerce ceremony, ECSU Interim Chancellor Karrie Dixon praised Coulson-Clark for preparing students to be life-long learners.
Coulson-Clark is a professor in the Social and Behavioral Sciences Department concentrating on public administration and political science. She is a former ECSU Assistant Vice Chancellor for Academic Affairs, and a former Special Assistant to the Chancellor for Institutional Research, Planning and Outreach. She also former served as the chair of the Social and Behavioral Sciences Department.
The 17 recipients, who represent all 16 of North Carolina's public universities, as well as the North Carolina School of Science and Mathematics, were nominated by special committees based on their home campuses and were selected by the Board of Governors' Committee on Personnel and Tenure.
"These instructors we recognized bring innovative and creative teaching methods and approaches which make a real difference in how students learn," said UNC Board of Governors Chair Lou Bissette. "We're proud to highlight their accomplishments in the classroom to further showcase the high-quality education students are receiving throughout the UNC System."
Dr. Coulson-Clark says her teaching philosophy incorporates "technology, assessments, interactions, ethical principles, personal development, and personal accountability."
"My goal is to encourage students to face their fears and crisis of confidence, and maximize their academic potential," said Dr. Coulson-Clark.
Dr. Coulson-Clark says she works to guide students to achieve academic success.
"I believe that teaching students to become great future decision-makers must always remain central to my teaching," she said. "It is my desire to leave this world a better place than how I found it. I will do this one student and one class at a time."
---