During Unprecedented Times, ECSU's Campus Public Radio Continues to Keep Community Informed, Entertained
---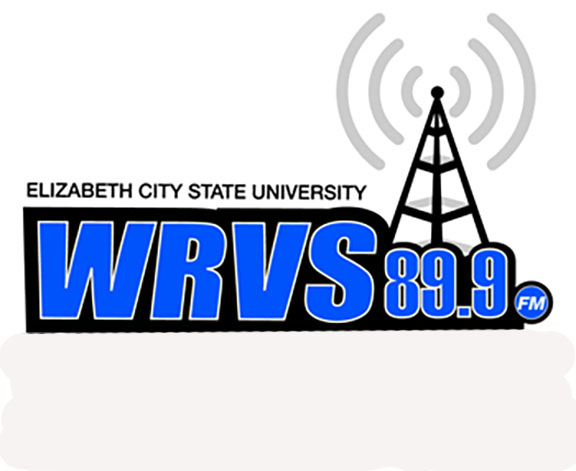 On the campus of Elizabeth City State University, inside Williams Hall, you can find Clay Mercer. Mr. Mercer is the program director for WRVS 89.9 FM, and during these unprecedented times, he's working to keep people not only informed about COVID-19, but also entertained.
"I think news is a real important part of what we do, and I am glad we have that, but I think people want some normalcy and thought it important to keep shows going that they are familiar with," he said.
As the station's program director, it falls on Mr. Mercer to keep the station running despite a lack of on-site staff. WRVS continues to offer daily broadcasts from National Public Radio, keeping listeners informed, and it is also providing listeners with the music and local shows they have come to rely upon.
While Mr. Mercer is doing much of his work for the campus public radio station from home, he does go into the booth each day to not only work on air, but also program shows. Much of the music people are hearing on those familiar shows is programmed now and being played without the benefit of on-air personalities.
"So, when you turn on the station, you hear what you are used to hearing over the years," he says.
WRVS recently celebrated its 34thyear on the air, says ECSU's director of radio and television services, Melba Smith. She says since the station first went on the air, it has played an important role as a public service.
"We are a public radio station and we have a commitment to serving the public," she says.
When WRVS began airing in 1986, the station was operated by a general manager, four staff members and a host of student volunteers. Because the University of North Carolina System sent faculty, staff, and students home to work from their kitchens and living rooms, and the state's governor issued a stay-at-home order to help lessen the spread of COVID-19, the task of being the one, WRVS on-air voice, has fallen on Mr. Mercer.
When talking about station operations during the time of COVID-19, he emphasizes the importance of keeping the information flowing, and for people to hear those familiar voices. He says that while some of those voices are pre-recorded, like the show, "Around Town with Hez Brown," not all are.
Perhaps one of most important shows these days is Chancellor Karrie G. Dixon's "Conversations with the Chancellor," which addresses current ECSU events. Mr. Mercer says the Chancellor is on top of her show, either being present at the radio station, or calling in to broadcast important information about the life of ECSU.
"The Chancellor is really great during all of this," says Mr. Mercer. "She's committed to this and committed to doing additional shows to keep people informed."
"Conversations with the Chancellor" airs regularly on the fourth Wednesday of each month, at 4 p.m. However, since the COVID-19 crisis began, Chancellor Dixon has made additional appearances on air, such as a recent show with ECSU's provost, Dr. Farrah Ward.
Aside from keeping listeners informed and entertained through radio, Ms. Smith says social media is playing an important role for the station and its followers. Through the station's Facebook page and its YouTube channel, listeners are able to keep up with information, check on any schedule changes, and catch shows they may have missed.
All of this, however, is dependent upon funding. Mr. Mercer emphasizes that a public radio station is listener supported radio.
"We had to postpone our annual fundraiser, Success Fest," he said. "It's important to keep the station on the air. We would like to remind people to continue to give. Listener support is really important."
To find out more about WRVS, its shows, its schedules, or to live stream broadcasts on your computer, you can check them out on their ECSU webpage HERE. To follow them on Facebook, go HERE. You can give directly to WRVS by clicking HERE.
---