Drug Information Center has new director
Posted On September 5, 2011
---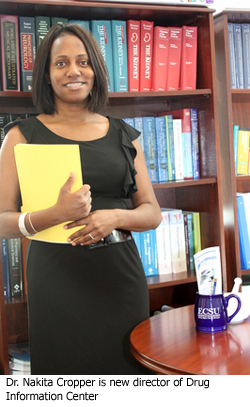 Kesha Williams
September 05, 2011
Healthcare providers and the public can dial the same phone number to gather information about the many uses of prescribed medicines, possible side effects of them or the threat of interactions. That phone number, 252-335-2449 is reserved for the Drug Information Center at Elizabeth City State University. The center has operated since 2008 when the doors opened at a temporary location on Ehringhaus Street. Now, the center is located in the new Pharmacy Complex on the ECSU campus and the new director, Dr. Nakita Cropper is planning its future services.
The purpose of the Drug Information Center is to provide accurate and unbiased health information to health care professionals and the public in northeast North Carolina and surrounding areas. Cropper said questions can be submitted by phone, fax or e-mail.
&quotWe provide information about prescription and non-prescription medications–vitamins, minerals, dietary supplements– and some alternative therapies to treat different diseases,&quot Cropper said. &quotDoctors provide great medical care but often do not have time for extensive patient education sessions due to the time constraints that come with operating an office where several patients are waiting.&quot
The Drug Information Center can respond to submitted questions or schedule one-on-one consultations to discuss medication management and general health information related to specific health problems. The services are confidential and free. The center is funded by the GlaxoSmithKline Foundation of North Carolina, the ECSU Foundation and the Pharmacy Partnership Program.
&quotWe plan to improve the standard of patient centered care and health outcomes in the clinical and community settings through innovate and collaborative care,&quot Cropper said. &quotIn addition to responding to drug information requests, we will hold numerous workshops and seminars and educate the public on various diseases.&quot
Cropper is also planning to lead workshops co-hosted by local health departments. In addition, she will continue to work with the Carolina Association of Pharmacy Students (CAPS) to hold various, free health screenings on campus and at select sites in the community. Operation Diabetes is the biggest patient care initiative within CAPS. Its focus is not only patient education, but also to help in identify potentially pre-diabetic patients and encouraging healthy lifestyle changes. The screenings and health seminars are particularly important given the fact that diabetes is an epidemic in northeast North Carolina. North Carolina State Center for Health Statistics show that 12.5% of adults in Northeastern North Carolina have diabetes. Diabetes is more prevalent in northeastern North Carolina than any other region in the state. Cropper says the center will dedicate a sufficient amount of resources and education to diabetes but will also provide information on several other diseases including hypertension and cholesterol.
We will look at hypertension, heart disease, strokes and diabetes while educating the public on how they are related and treated. I want to help people make better choices. And I can provide that information in small seminars. Our focus here is patient education and health literacy, Cropper said.
Cropper has dedicated much of her time in the last nine years to preparing for this type of health education. She earned her Bachelor of Science in Chemistry and the Doctor of Pharmacy degree from Howard University in 2002. She has practiced in retail, hospital and clinical capacities most recently serving as a Clinical Pharmacist/Diabetes Educator at Cashie Medical Clinic located at Bertie Hospital in Windsor, North Carolina. Her research interests include diabetes and health literacy. In November 2010, she achieved Certified Diabetes Educator (CDE) status by successfully completing the Certification Examination for Diabetes Educators. Candidates must meet rigorous eligibility requirements to be able to take the Examination. Achieving certification status demonstrates to people with diabetes and employers that the health care professional possesses distinct and specialized knowledge, thereby promoting quality of care for people with diabetes.
---