Drs. Hayden and Mackey Named ECSU Professor Emeritus
---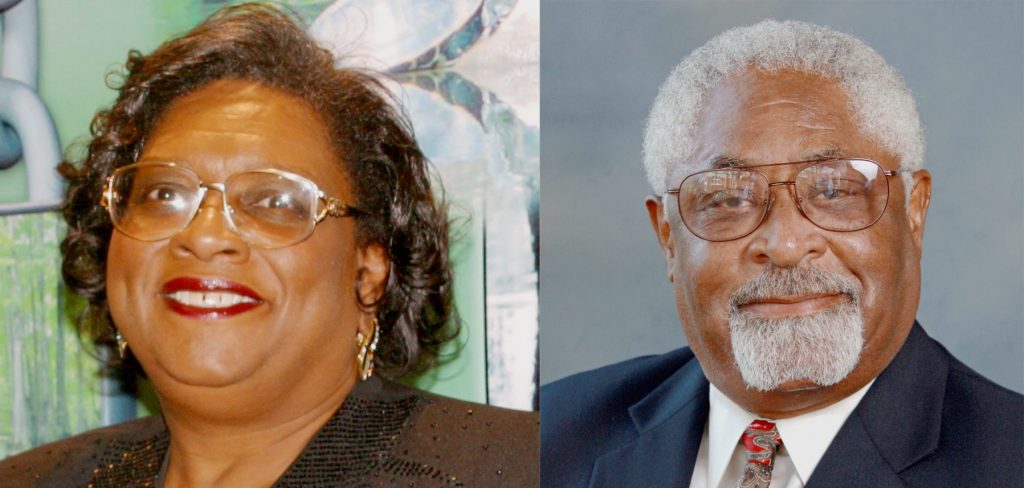 Dr. Linda Hayden, left, and Dr. Claudie Mackey were recently named professors emeritus.
Two professors with long and distinguished careers at Elizabeth City State University have been named professors emeritus.
During the March 26 Board of Trustees meeting, Dr. Linda Hayden and Dr. Claudie Mackey were named professors emeritus for their outstanding, and ongoing, service to ECSU. Chancellor Thomas Conway presented the honors to the Board.
Dr. Hayden is the director of the university's Center of Excellence in Remote Sensing Education and Research. A professor of mathematics, she has a 38-year history with ECSU.
Her work over the years has garnered her a great deal of praise from the national scientific community, as well as brought honors to ECSU. Thanks to the work of Dr. Hayden and her students, a bay in the Antarctic was named after the university in 2013.
She was also instrumental in The History Makers Collection from 2013 to 2014. The History Makers Collection is work based upon a grant from the National Science Foundation to interview 180 of the nation's top African American scientists and create curriculum based on the interviews.
A list of her achievements would take up pages and it seems, according to Chancellor Conway during his introduction to her honors at the Board meeting, she's not done yet.
"She's still writing grants. She is still one of our star performers," he said.
Dr. Mackey's career at ECSU – his alma mater – began in 1977. Since that time he has served as the Associate Vice Chancellor of Academic Affairs/External Relations, Interim Dean for the School of Education and Psychology, Senior Professor for the School of Education and Psychology, head basketball and track coach, and much more.
He has also been a very active fundraiser for the university. Since 1991, Dr. Mackey has submitted proposals for funding exceeding $19 million. He has received grants funded from corporate, national, state and philanthropic agencies exceeding $7.6 million.
He has also served as the chairman of the NCAA South Atlantic Regional Basketball Committee as well as the NCAA Division II Atlantic Regional Basketball Committee. He most recently served as a member of the NCAA Division II Championships Committee.
Dr. Mackey is currently serving as interim athletic director while a national search is conducted for the position.
---