Dr. Vann Newkirk is ECSU's next Provost/Vice Chancellor
---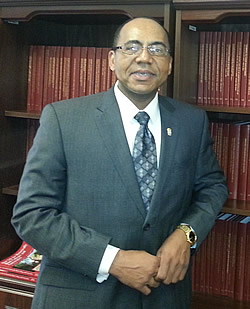 Kesha Williams
May 13, 2015
After completing a nationwide competitive search facilitated by a committee consisting of ECSU faculty and representation from a sister UNC institution, Chancellor Stacey Franklin Jones announces Dr. Vann Newkirk as ECSU's next Provost/Vice Chancellor for Academic Affairs.
Dr. Newkirk is an experienced educator with an entrepreneurial spirit. He is revered for his ability to think strategically and to build strong academic teams. He is committed to process improvement, strengthening the academic curriculum and improving student learning.
Dr. Newkirk holds a Bachelor's degree in Sociology from Barber-Scotia College, a Master's degree in History from Winthrop University, a Master's degree in Library Science from North Carolina Central University and a Doctorate of Philosophy in History from Howard University. His detailed biography may be found here.
Dr. Newkirk will begin his work at Elizabeth City State University on July 6, 2015. Please join me in welcoming Dr. Newkirk to ECSU.
---