Dr. Shirin Siddiqui is One of a Number of Professors Celebrating ECSU's Annual International Week
Posted On November 10, 2020
---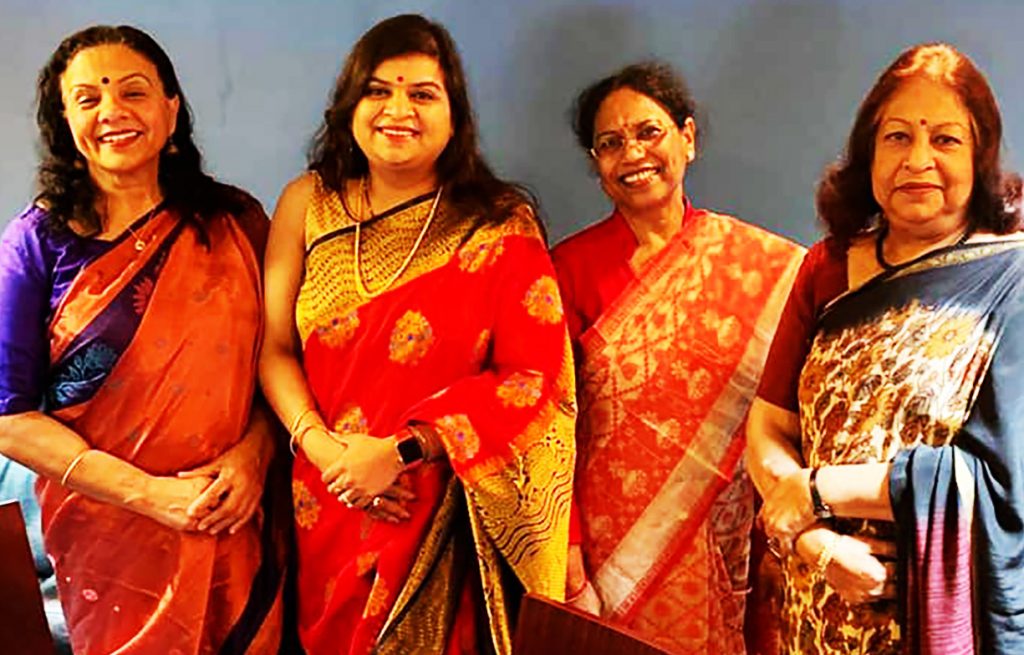 Dr. Shirin Siddiqui, far left, is one of a number of international professors celebrating ECSU's International Week. She is joined by, second from left, Dr. Debjani Kanjilal, Dr. Jharna Sengupta, and retired ECSU professor, Dr. Sultana Khan.
Chemistry professor, Dr. Shirin Siddiqui, has embraced life at Elizabeth City State University since 2013 when she left the professional world for the academic world. This week, the Bangladesh native and naturalized American citizen is, like many on campus, celebrating the university's annual International Week. 
"It's been one of the highlights of our institution and our community," said Dr. Siddiqui.
International Week has been celebrated on the campus of ECSU for several decades, highlighting the diverse cultures that make up faculty, staff, and students. The week typically culminates in the International Dinner, celebrating the food culture of many counties.
This year, however, due to the COVID-19 safety measures in place on campus, International Week is being celebrated online with a number of virtual activities.
Dr. Siddiqui spent the early part of Tuesday morning with the week's first activity, a Zumba class. The class was taught on Zoom and led by an instructor in Mexico. Dr. Siddiqui says she attended the virtual class dressed in her traditional sari.
The sari is a woman's garment from the Indian subcontinent. It is a draped garment made with fine and colorful fabric and while Dr. Siddiqui does not wear her traditional clothing daily, she says it is something she enjoys.
"I feel most comfortable in my sari," she said. "I feel most beautiful in my sari."
While most days Dr. Siddiqui can be seen in Western clothing, there was a time early in her arrival to the United States that she wore a sari daily. That was in the late 1970s when she came with her then husband while he pursued a doctorate at the University of Pittsburg, and lived amongst a large community of immigrants in the Pennsylvania city.
Dr. Siddiqui had earned her bachelor's and master's degrees in chemistry at the University of Dhaka in Bangladesh, so once she had settled into life in Pittsburg, she too pursued her doctorate.
"I was a graduate student's wife and I was bored and had a master's degree and talked to the university, and they gave me a chance," she said.
Eventually, Dr. Siddiqui would use her doctorate to work in the semi-conductor industry. But her dream, she said, had been to be an educator. So once her daughter was grown, she took what she describes as a "risk," and changed careers.
While her first university position was in South Carolina, circumstances in her life led her to Elizabeth City to be close to her daughter and a friend struggling with cancer. She's been a beloved chemistry professor at ECSU ever since.
There is a community of immigrants teaching at ECSU, says Dr. Siddiqui. Together they embrace life in their adopted home and enjoy sharing their cultures with one another, and with their students.
Each semester Dr. Siddiqui holds a small dinner in her home for her students. They are treated to food from Bangladesh and they are, she says, interested in her culture.
However, Dr. Siddiqui says she would like to see more cultural outreach to students. She would like to see the diversity of cultures have a bigger impact on ECSU students.
"Sometimes people do not talk about their backgrounds as much," she says. "Maybe we are afraid to be different and want to fit in."
Having an impact on students can change the way they see the world. One student had come to ECSU from the U.S. Army and was a few years older than her peers. As a soldier, she had seen the Muslim world as the enemy, but Dr. Siddiqui was able to give her a different point of view.
Dr. Siddiqui is Muslim. In Bangladesh there are Muslim and Hindu natives but beyond their religious differences, she says they share the same culture. Her student was able to see beyond the views she had cultivated as a soldier to see the joy Dr. Siddiqui brought to her classroom.
"She said, 'Dr. Siddiqui, you changed my mind about the Muslims,'" she recalled. "I thought that was the ultimate compliment."
For a list of what is taking place at ECSU for International Week, go HERE.
---