Dr. Roosevelt Newson is the latest recipient of the Spangler Endowed Professorship
Posted On November 8, 2010
---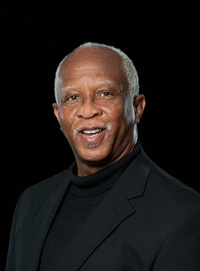 Kesha Williams
November 08, 2010
Dr. Roosevelt Newson has enjoyed great success in two distinctly different careers.&ampnbsp As ECSU's newest recipient of the Spangler Endowed Professorship and the first such appointment in the School of Arts and Humanities, Newson has an impressive resume as both a concert pianist and scholar.&ampnbsp&ampnbsp Having served as Provost &ampamp Vice President for Academic Affairs (VPAA) at two institutions, Bowie State University and at the University of North Alabama, Newson's administrative career spans a period of 25 years.&ampnbsp
His previous administrative appointments include those of Dean of the College of Fine Arts at Illinois State University, Dean of the College of Liberal Arts &ampamp Social Sciences at Georgia Southern University, and Associate Dean of the College of Arts &ampamp Sciences at Bloomsburg in Pennsylvania.&ampnbsp A musician by training, Newson began his career in Higher Education at Western Michigan University and at Wilkes University (PA) where he was the Artist-in-Residence.&ampnbsp He commenced his full-time administrative career as an American Council on Education (ACE) Fellow at the State University of New York in Binghamton.&ampnbsp
Prior to his career in Higher Education, Dr, Newson was a full-time concert artist under professional management in New York City.&ampnbsp He made his professional debut at Wigmore Hall in London and, since that time, has presented a number of concerts that were broadcasted on radio and television.&ampnbsp Among his live broadcasts was a recital presented at The National Gallery of Art in Washington, D.C.&ampnbsp Having concertized internationally, Newson has performed in major European cities such as Vienna, Salzburg, Brussels, and The Hague.&ampnbsp He has been the featured soloist with the Charlotte Symphony Orchestra, Cleveland Philharmonic, and the Northeastern Pennsylvania Philharmonic.&ampnbsp Dr. Newson also presented a series of public school concerts with the Baltimore Symphony Orchestra.&ampnbsp Held in high regard for his performances of contemporary music, Newson was chosen to present the premier of David Ott's Piano Concerto with the Charlotte Symphony and a chamber work by Hale Smith in Nashville and New Orleans.
Newson will hold a piano recital at 4 p.m. on February 20th and 27th in the auditorium of the Fine Arts Complex. Later in March, he will present two lectures: On March 8 his topic is &quotthe Invention of the Negro and the Evolution of His Music&quot and &quotThe Era of Ragtime&quot which will include musical performances by students.
A graduate of Southern University in Baton Rouge, the Louisiana-born pianist studied at the Peabody Conservatory of Music in Baltimore and at The Juilliard School in New York City.&ampnbsp His teachers include Walter Hautzig, Leon Fleisher, and Martin Canin.&ampnbsp A veteran of the Affiliate Artists Program in New York, Newson's biography appears in Who's Who Among Black Americans and the International Who's Who in Music.
---