Dr. Ngozi Oriaku urges students to take ownership of education
Posted On January 30, 2012
---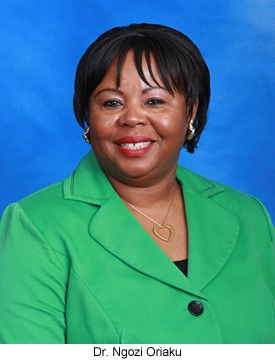 Bonnie Winston
January 30, 2012
For Dr. Ngozi Oriaku, success begins with students claiming responsibility for getting the most out of their education.
&quotTake ownership in your education. Education is your passport to go anywhere in the world,&quot says Oriaku, chairperson of the Department of Business Administration at Elizabeth City State University.
Oriaku began teaching at ECSU in 1987 and has witnessed the changes and growth both in students and the university, which has offered a bachelor's degree in business administration since 1973. The department is now part of the larger Walter R. Davis School of Business Economics and as chairperson, she works closely with the eight faculty members in the department. She also teaches the International Business course and gets to know many of the students. Many come to her for advice, where she offers her five keys to success:
Take ownership in your education.
Have a willingness to move out of North Carolina – or even out of the United States – for a good job.
Learn a foreign language. &quotI encourage them to take Spanish or French,&quot said Oriaku, who speaks several languages herself. She acknowledged that Mandarin and Arabic also may be beneficial for business, but students must inquire about their availability.
Have an open mind to accept the advice and assessment of teachers. &quotEveryone here is trying to help you to reach your goals,&quot she said. &quotIt's important to have an open mind to learn from their critique and assessment.&quot
Engage in outreach projects. &quotBy this, I mean community service work both on campus and outside of the campus,&quot she said. &quotThis helps to build leadership skills and it looks good on a resume when you are looking for a job.&quot
One student organization, Students in Free Enterprise (SIFE), has a long tradition of undertaking projects within the community, Oriaku said. The group recently won a $2,000 grant to help women start businesses. Past projects included designing a website for a local nonprofit organization, offering tips to high school students on dressing for success and creating a short course for college students on how to use credit cards responsibly.
Last semester, students in Oriaku's International Business class visited the Elizabeth City Area Chamber of Commerce where they learned about area businesses involved in global trade. When they found out about the chamber's efforts to raise money for the Foundation for Children with Cancer, the students joined in the community service fundraising by holding bake sales and jewelry sales on campus, with proceeds going to the cancer relief organization, Oriaku said.
Students majoring in business administration have a choice of four concentrations – management, marketing, management information systems and economics and finance. &quotWe encourage our students to do internships, either during the summer or the school year,&quot Oriaku said. The internships provide key learning experiences in actual businesses and organizations and prepare students for careers in businesses, government, marketing, management and nonprofits.
Students have interned with banks, the chamber of commerce, small businesses and nonprofit organizations in the area.
One of Oriaku's chief goals as department chairperson is to support and enhance student readiness for the labor market.
&quotWe want to participate in a total effort to train students to become productive citizens,&quot Oriaku said. That includes enhancing students' global perspective and appreciation for diversity, she said.
The current economic climate has forced many companies to cut their staffs or to shut down entirely, Oriaku said, which makes the job market tough for recent graduates and students poised to finish their degree requirements.
&quotWe encourage students to go to graduate school to continue their education right now,&quot Oriaku said. Additional internships also may help, she said.
She said participating in internships will be compulsory for students entering the business administration program in fall 2012.
This article is part of a series of features spotlighting the chairpersons of ECSU's academic departments.
---