Dr. Nelson ponders the future for health and physical education students
Posted On January 23, 2012
---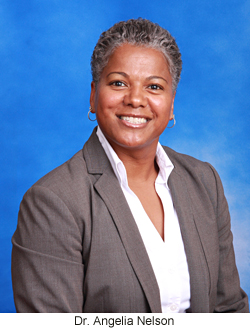 Kesha Williams
January 23, 2012
You might say competition is at the forefront of Dr. Angelia Nelson's discussions about career opportunities for students enrolled in Elizabeth City State University's Department of Health and Physical Education.
While the projected growth is promising for some jobs related to health and physical science, Nelson says competition will be keen for the best jobs.
As chairperson of the department, Nelson supervises 14 faculty and two part-time staff members who are dedicated to preparing ECSU students for the future. The department is part of the School of Education and Psychology, which awards undergraduate degrees in the department's four areas of study — instructional physical education, aquatics and fitness and the pre-graduate option designed for graduate-level entry into physical and occupational therapy and chiropractic.
Jobs in those fields may be located at schools, universities, hospitals, nursing homes, fitness centers and health clubs, or in the office of physicians or with other health care providers. The demand for personal trainers, for example, has grown as the need to assist patients with weight-related health problems has increased.
According to the North Carolina Commerce Department's Division of Employment Security Commission, physical therapist and physical therapy assistants are projected to be among the fastest growing occupations through 2016. While spokespersons with the agency admit these are only projections, there are good reasons to expect growth in these areas. Some jobs will require an undergraduate degree, while others will require an advanced degree as well as licensing. To compete, students must be highly educated and skilled, determined and prepared to work with patients with a wide range of recovery needs.
&quotOur faculty and staff must be innovative in instruction,&quot Nelson said, incorporating both technology and internships located within North Carolina and out of state. &quotMrs. Priscilla Osterhouse, the program coordinator for exercise science, works to find internships for our majors… wherever they will receive quality experiences and training.&quot
Nelson began her duties at ECSU last semester and is encouraged by the progress of her teaching staff and students within the department.
&quotI'm interested in assuming a team effort here. This is not a situation where one person will make all the necessary changes to meet the department's goals and objectives,&quot Nelson said.&ampnbsp&quotI lean on the faculty and their levels of expertise to develop our future teachers, physical therapists and personal trainers.&quot
Nelson says sports management is one of the more lucrative fields for the department's graduates. Some eventually may serve as athletic directors at universities or leaders in corporations. Nelson is confident students are off to a strong start within the department because of the curriculum includes courses in business, journalism and other disciplines.
In order to succeed, students must be disciplined in their study habits, Nelson said, and be willing to complete more than one internship. They also must be willing to relocate to secure good jobs and be willing to commit the time and energy to become the top students in the country.
&quotOur desire (as educators) is to be sure our students are able to compete. The curriculum is set, but we are constantly trying to determine how we can offer the classes students need in order to be top candidates,&quot Nelson said. &quotWe've added two new computer labs, smart boards in classrooms, more furniture in the lobby for students where can review their notes between classes.&quot
Nelson said the department's interns are working in the Melvyn N. and Vonda Reed Riley Wellness Center &quotto teach them how to run businesses.&quot The center, which is available for ECSU students, staff and faculty, is open about 12 hours daily. &quotThat's a great experience for the interns,&quot Nelson said.
The center is managed by baseball coach Terrance Whittle, who is a member of the faculty in the Department of Health and Physical Science.
&ampnbsp&quotWe extended our hours for faculty and staff from noon to 2 p.m.,&quot Nelson said. &quotThey are welcome to use it free of charge also during routine hours of operation. We look forward to introducing our students and staff to more spinning bikes so they will have more ways to exercise. Our staff is interested in helping out so we are beginning a new process of orientating them to the machines.&quot
This is the first in a series of feature stories that will spotlight the chairpersons of ECSU's academic departments.
---