Dr. Mickey L. Burnim Honored as ECSU Chancellor Emeritus During 129th Founders Day Convocation
---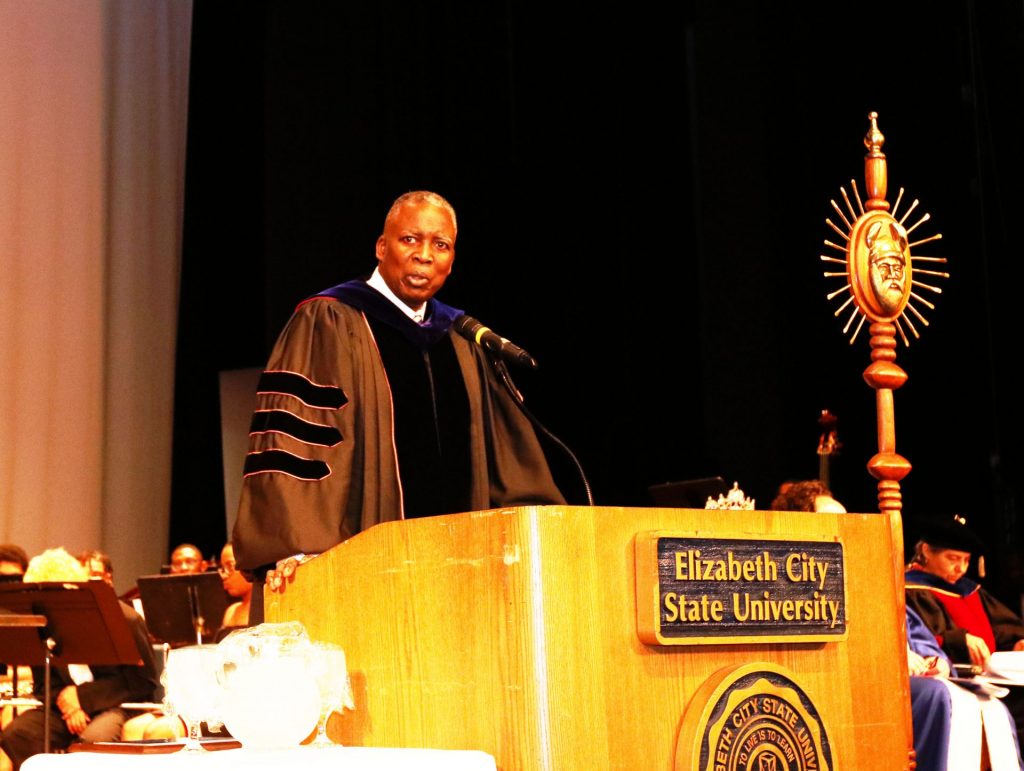 Former ECSU chancellor, Dr. Mickey L. Burnim, addresses the 129th Founders Day Convocation Friday, March 6, 2020. Dr. Burnim was honored as ECSU Chancellor Emeritus later during the convocation ceremony.
Little did former Elizabeth City State University chancellor, Dr. Mickey L. Burnim, know that when he agreed to speak during the 129th Founders Day Convocation Friday, March 6, he would also be honored as the university's Chancellor Emeritus.
Toward the end of the Founders Day event, ECSU Chancellor Dr. Karrie G. Dixon stood to confer the honor to Dr. Burnim. Dr. Burnim, said Chancellor Dixon, was unaware of the honor about to be presented to him.
"It is my great honor to name you Chancellor Emeritus," said Chancellor Dixon.
Dr. Burnim served as chancellor of ECSU from 1995 to 2006. He currently serves as interim president for Coppin State University.
During his 11 years at ECSU, Dr. Burnim reorganized the university into four schools and expanded the curriculum offerings to include seven new degree programs.
Dr. Burnim was known for his focus on students, regularly dining with them. He also held monthly student gatherings at the Chancellor's Residence to discuss a variety topics from social, to political, to international issues.
He retired from ECSU in 2006 to become president of Bowie State University. After Dr. Burnim left Bowie State in 2017, he served as interim president of the University of Maryland Eastern Shore in the summer of 2018.
During Friday's speech, Dr. Burnim reflected upon his time as ECSU chancellor and encouraged students, faculty, staff, and alumni to celebrate the legacy of the founders, especially Hugh Cale, by expressing gratitude.
"Gratitude is shown in acts," said Dr. Burnim. "Hugh Cale deserves our gratitude. I suggest we pay it forward. There is a way for each of us to do so."
To the students, Dr. Burnim encouraged that they be thankful for the university they have today. To faculty, he said to be grateful that "you are provided a platform to shape fertile minds." And to staff, Dr. Burnim encouraged them to continue providing the invaluable support students require to succeed.
"I believe that staff is the glue for cultural cohesion that says students can succeed," he said.
Dr. Burnim said Hugh Cale was a powerful force for change, creating an institution that has created distinguished alumni, and continues to provide an education to students, elevating their place in society, and enhancing their future.
"Let's give the best of ourselves as Hugh Cale did," said Dr. Burnim.
---