Dr. Karrie G. Dixon Named Chancellor of Elizabeth City State University
Posted On December 14, 2018
---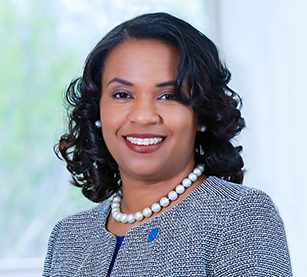 The Board of Governors of the University of North Carolina System today announces that Dr. Karrie Gibson Dixon has been selected as chancellor of Elizabeth City State University. The decision was made following a vote held by the Board during its regular meeting. Dr. Dixon, who has held the title of interim chancellor since April 8, 2018, will assume her new role effective immediately.
"Dr. Karrie Dixon's experience, passion, and proven track record of success is exactly what ECSU needs, and I'm thrilled that she will be the next chancellor," said UNC System President Margaret Spellings. "As interim, she has led an institution on the rebound, and I have the highest confidence that she and her team will continue to build a bright future for a proud pillar of northeastern North Carolina."
Dixon was selected by Spellings from among three final candidates for the position chosen by an 18-person search committee of the ECSU Board of Trustees, faculty, staff and students, community members, and a representative of the UNC Board of Governors.
"I have said it many times before, but Dr. Karrie Dixon is a true 'rock star' in higher education, and there's no one better to lead Elizabeth City State University going forward," said UNC Board of Governors Chair Harry Smith. "The Board and I are excited about the future of ECSU under her leadership."
Dr. Dixon becomes Elizabeth City State University's twelfth chief executive officer, succeeding previous chancellor Dr. Thomas Conway, Jr., who served from 2016-2018. She is the second female to serve in this capacity, following in the footsteps of Dr. Stacey Franklin Jones.
"We are excited to name Dr. Dixon as the seventh chancellor of Elizabeth City State University," said ECSU Board of Trustees Chair Harold Barnes, who served as chair of the ECSU Chancellor Search Committee. "Dr. Dixon brings a deep commitment toward building an outstanding experience for students, as well as an uncompromising dedication to create an environment of accountability and shared governance that will serve ECSU and the community well.  The Board is eager to work with Chancellor Dixon to advance ECSU."
Prior to her appointment as interim chancellor, Dr. Dixon served as co-lead on the ECSU New Directions Phase 2 Operational Team since early 2017.
"I am deeply honored and excited to have the opportunity to serve as the next chancellor of Elizabeth City State University," said Dr. Dixon. "I'd like to thank the UNC Board of Governors and President Margaret Spellings for entrusting in me the opportunity to lead this great university. I look forward to working with the ECSU Board of Trustees, alumni, faculty, staff, students, and the community as we continue to move ECSU in the right direction."
About ECSU Chancellor Karrie G. Dixon
Dr. Dixon has served as a senior administrator at the UNC System Office since 2008. In 2014, she was promoted to vice president for academic and student affairs, where she was responsible for overseeing the Division of Academic and Student Affairs for the System's 17 institutions.. For nearly 10 years, she has provided the UNC System office with her expertise in academic policy, while leading various student success initiatives and managing processes to increase student access, enrollment, retention, and graduation rates. She has fostered innovative collaborations among the UNC System, the NC Community College System, the state's independent colleges and universities, and the NC Department of Public Instruction and has been instrumental in leading multiple projects and policy changes that have greatly impacted students in the UNC System and statewide.
Dixon also served as the chief student affairs officer for the UNC System, working closely with vice chancellors for student affairs and other University leaders on efforts regarding community college transfers, enrollment and minimum admission requirements, campus safety, and military student success. Statewide programs, under her direction, included the College Foundation of North Carolina (CFNC) Pathways and the federally-funded NC State Approving Agency. Over the years, her research and scholarly presentations have focused on summer bridge programs, transfer articulation, and strategies for student success.
Before joining the UNC System, Dixon served a total of 10 years combined at two other UNC System institutions. Most recently, she was an assistant vice provost at North Carolina State University and remains an adjunct assistant professor at the College of Education's Department of Leadership, Policy, Adult and Higher Education. In this role, she led discussions with graduate students interested in careers in higher education leadership and serving on dissertation committees.
Dixon received the 2013 Distinguished Alumni Award from the College of Education and the Black Alumni Legacy Award in 2014 at NC State. Dr. Dixon is a member of the American Association of State Colleges and Universities' (AASCU) Millennium Leadership Initiative, class of 2013. She also received the Triangle Business Journal's "40 Under Forty" leadership award in 2014.
Dr. Dixon was recognized as a recipient of the 2015 Alumni Distinguished Service Award from the University of North Carolina at Greensboro. Most recently, she was named a 2016-17 American Council on Education (ACE) Fellow. Her host campus for the academic year was Wake Forest University in Winston-Salem, NC.
Dr. Dixon holds a bachelor's degree from NC State University, a master's degree from UNC Greensboro, and a doctorate from NC State. She and her husband Devi have two daughters.
About The University of North Carolina System
The UNC System enrolls more than 230,000 students at 17 institutions, including all 16 of the state's public universities, as well as the nation's first public residential high school for academically gifted students, NC School of Science and Mathematics. The UNC System is among the strongest and most diverse higher education systems in the nation, with over $1.5 billion in research expenditures, a wide array of HBCUs, liberal arts institutions, comprehensive universities, and R-1 research institutions. Its institutions support two medical schools and a teaching hospital, two law schools, a veterinary school, a school of pharmacy, 11 nursing programs, 15 schools of education, five schools of engineering, and a renowned arts conservatory. The North Carolina Arboretum, UNC Press, and the UNC Center for Public Television, with its 12-station broadcast network, are also all UNC System affiliate organizations.
About Elizabeth City State University
Founded in 1891, Elizabeth City State University offers baccalaureate, professional, and master's degrees for a diverse student body. Our mission is to promote economic, social, and environmental progress for the people of northeastern North Carolina, the state, and the nation.
ECSU is home to North Carolina's only four-year aviation program. The university offers a top-flight aviation education program, which includes flight training, air traffic control, avionics, and, beginning in the fall of 2019, a premier unmanned aerial vehicle, or drone, bachelor's degree program. Our graduates work in all facets of the aviation industry and include commercial and military pilots.
Also, in the fall of 2019, ECSU will become the first four-year institution in North Carolina to offer a bachelor's degree in homeland security. The degree is one of many new and innovative programs offered at ECSU. These signature programs are creating a mounting interest in ECSU and, as a result, increasing new freshman enrollment by 20 percent and transfer student enrollment by 57 percent in 2018.
All of ECSU's exciting programs are made affordable to students through the NC Promise Tuition Program. Through NC Promise, in-state undergraduate tuition is $500 a semester and out-of-state undergraduate is $2,500. For more information, visit www.ecsu.edu.
---