Dr. Karrie G. Dixon is Officially Installed as ECSU Chancellor During Friday, Oct. 11 Ceremony
Posted On October 11, 2019
---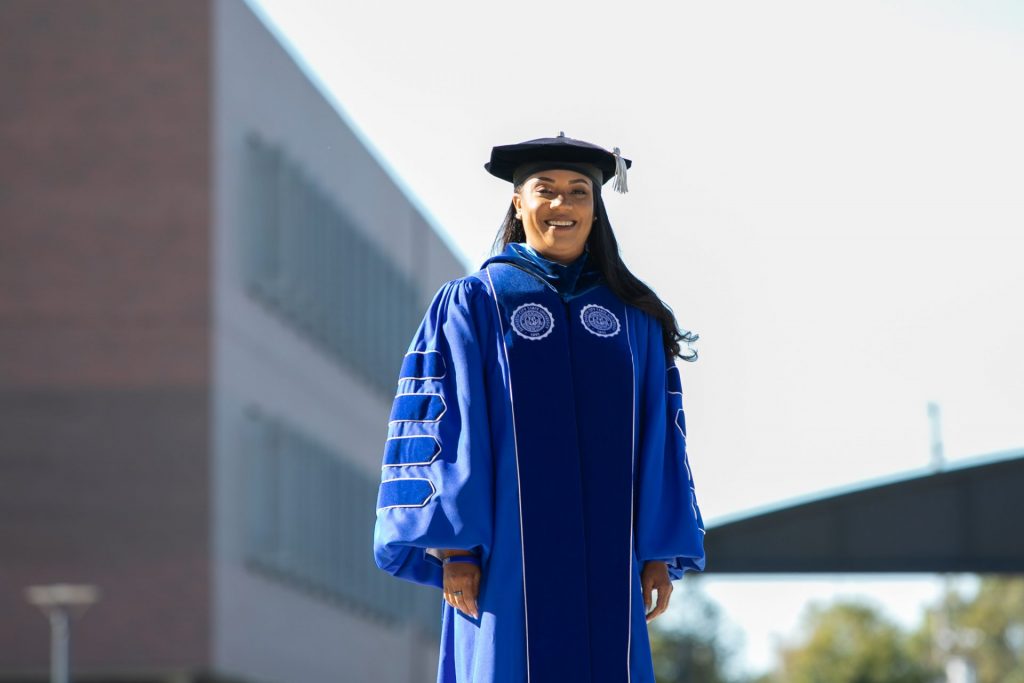 Dr. Karrie G. Dixon has been officially installed as Elizabeth City State University's 12th chief executive officer and seventh chancellor.
During an official installation ceremony Friday, Oct. 11, in the Mickey L. Burnim Fine Arts Center, Dr. Dixon was ceremoniously installed as chancellor by University of North Carolina System Interim President, Dr. William L. Roper.
"Today's ceremony seals a formal compact between all of you (students, faculty, staff, and community) and your new chancellor," said Dr. Roper in his introduction to Dr. Dixon.
Dr. Dixon was joined on stage by her family and received the Chancellor's medallion from Dr. Roper before making her acceptance speech.
Dr. Dixon, who has served as ECSU's official chancellor since December 2018, and interim chancellor prior to that, took the stage to address a packed auditorium, and numerous people watching through live streaming across the ECSU campus.
"This is the beginning of a new chapter in ECSU history," said Dr. Dixon. "And I have high expectations for the future."
Dr. Dixon formerly stated that she accepts the "stewardship" of ECSU, acknowledging that "this institution has transformed lives and communities." She said she stands on the shoulders of those who have gone before her, referencing the presence of former chancellors Dr. Jimmy Jenkins, Dr. Mickey Burnim, Dr. Thomas Conway, and the Honorable Judge Charles Becton, who served as interim chancellor.
The theme Dr. Dixon set forth for the 2019-2020 school year is "ECSU is Rising." And indeed, she said, great things are happening and she is grateful for the confidence in her ability to lead the university.
"I am grateful and humbled that you would trust this great institution in my hands," she said. "I will lead with integrity and transparency."
Dr. Dixon recounted the history of ECSU, from its beginnings in 1891 as a training school for African American teachers, to 50 years ago, in 1969, when it officially became a university, and a constituent campus of the UNC System.
And throughout that history, she said, ECSU has weathered many storms and is now poised to grow stronger and brighter than ever.
"The best is yet to come," said Dr. Dixon. "Great things are happening at ECSU."
Numerous guests congratulated Dr. Dixon from the podium. Local, regional, state, and federal officials congratulated her on her success. And two guests offered her a surprise honor.
North Carolina Secretary of State Elaine Marshall and Secretary of Revenue Ron Penny – a former ECSU faculty member – on behalf of North Carolina Gov. Roy Cooper, presented Dr. Dixon with the Old North State Award. Nominated for the award by members of her ECSU staff, Dr. Dixon, like recipients before her, received the honor for "dedication and service beyond exception and excellence to the Great State of North Carolina."
Dr. Dixon has served in the UNC System as an educator and administrator for more than 20 years. Prior to coming to ECSU, she served as the vice president for academic and student affairs, where she was responsible for overseeing the Division of Academic and Student Affairs for the System's 17 institutions.
---