Dr. Karrie Dixon Takes the Helm as ECSU's Interim Chancellor
---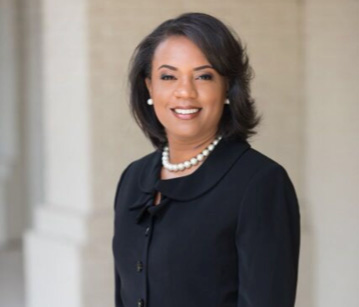 Elizabeth City State University's new Interim Chancellor, Dr. Karrie Dixon is officially at the helm as of Monday, April 9.
Dr. Dixon, who has co-chaired ECSU's Working Group Phase 2: A New Direction, since October 2017, was appointed Interim Chancellor by University of North Carolina System President, Margaret Spellings. The appointment was made after Chancellor Thomas E.H. Conway, Jr., announced his retirement last February.
Dr. Conway will remain at ECSU in an advisory capacity until his official retirement date, May 31. Dixon has worked closely with Dr. Conway, preparing ECSU for a strong future as one of North Carolina's 17 public institutions of higher education.
"Working with Dr. Conway to establish a solid foundation for ECSU's future has been a positive and productive experience. I am grateful to him and the senior staff for the hard and important work, and I am excited about the university's new direction and its very bright future," said Dixon.
The Winston-Salem native has served as a senior administrator for the UNC System since 2008. In 2014 she was named the Vice President for Academic and Student Affairs, overseeing the Division of Academic and Student Affairs for the system's 17 institutions.
As ECSU's Interim Chancellor, she brings with her experience in providing University-wide guidance for policy, shaping the work and practice of academic and student affairs for some of the nation's top-ranked institutes of higher learning.
Dr. Dixon has also served as the UNC System's Chief of Student Affairs Officer. In that role, she worked closely with Vice Chancellors for Student Affairs and University leaders, focusing on enrollment and minimum admissions requirements, community college transfers, military student success, and campus safety.
Dr. Dixon has also served a combined 10 years at two UNC campuses. Most recently she worked as an assistant vice provost at North Carolina State University and is currently an Adjunct Assistant Professor at the College of Education's Department of Leadership, Policy, Adult and Higher Education.
Dr. Dixon holds a bachelor's degree from NC State University, a master's degree from the University of North Carolina at Greensboro, and a doctorate from NC State. She is a graduate of Winston-Salem's Carver High School.
She and her husband Devi have two daughters.
---