Dr. Glen Bowman Dives into Second Book on Area African American Education History
---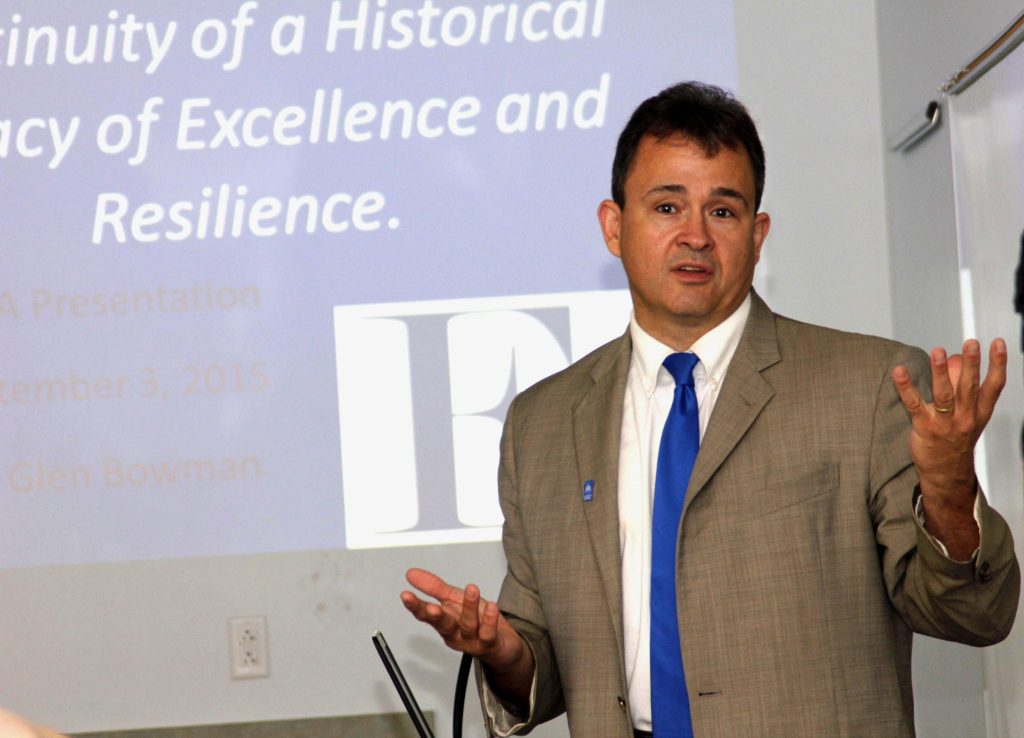 ECSU history professor, Dr. Glen Bowman, talks about his last book, a detailed history of the university since it's founding in 1891, during a lecture. Bowman is currently working on his second book, further detailing the history of education in the African American community.
There's not a lot about Elizabeth City State University history that Dr. Glen Bowman doesn't know, and although his first book about the subject, "The Continuity of a Historical Legacy of Excellence and Resilience," unearthed a great deal of ECSU's storied past, there's much more to say.
"I am writing a book on the history of secondary education for African Americans in Pasquotank County from the end of the Civil War to the opening of Northeastern High School in the fall of 1969," said Bowman, an ECSU professor of history.
Bowman says that in many ways, his new book is a prequel to his last examination of the history of African American education in the region. He says that his last book was commissioned by former ECSU Chancellor Willie Gilchrist and had to be kept at 60,000 words, forcing him to choose carefully what stories he told in that publication.
Now, he says, he can explore much more of the rich history from this region.
"I had close to half a million words of research text, but only a 60,000 word limit," he said. "My new book will help me be able to give the full story."
Bowman says his current book will not cover ECSU as a university, or a teacher's college, but rather as a high school. He explains that when ECSU was first created, it was a State Normal School, which not only trained future teachers, but also served as a high school for African Americans in the region.
"Until the opening of what later became P.W. Moore High School in 1923, the only way an African American student could get a public high school education was at what was called the Elizabeth City State Colored Normal School, the first name of what became known in 1969 as ECSU," said Bowman.
Although the Normal School was founded in 1891, it wasn't until 1905 that it opened its high school department.
"It did not offer college-level courses until 1921, 30 years into its existence," said Bowman.
The Normal School high school department would operate until 1931, when the Paul Dunbar High School – to be named P.W. Moore one year after it opened its doors – began operating in Elizabeth City.
Bowman says having a word limit on his last book forced him to leave so much out, and he had been hoping to find a home for all of this research he had conducted over the years. While he had published a weekly column in the local daily newspaper, highlighting much of this history, a book, he said, has been in the works since 2015.
"When I am able to do so, I make trips to the State Archives of North Carolina, and I am always surprised with what I end up finding," he said. "It is exciting to find things that one does not expect to find."
Things, he said, like a folder filled with letters of support for Elizabeth City State Normal School that was dated as far back as 1901. The letters, he said, were from area white residents who wanted the school to remain in Elizabeth City.
Bowman says he currently does not have a publisher for the manuscript. He says he plans to have a completed manuscript by the end of 2019. But even that deadline, he said, is dependent upon the quality of work he produces.
"I care most of all about writing a quality piece of work and I'm not going to force myself to meet an arbitrary deadline," he said.
Bowman says in the end, once there is a finished manuscript, he does hope to find a publisher. But he is, he says, willing to publish the book himself, if that's what it takes to get this history to the public.
"And I will donate all of the proceeds to the Flora Brown History Scholarship Fund at ECSU," said Bowman. "I want this book to be affordable and accessible."
---