Dr. Claudie J. Mackey inducted into CIAA John B. McLendon Hall of Fame
---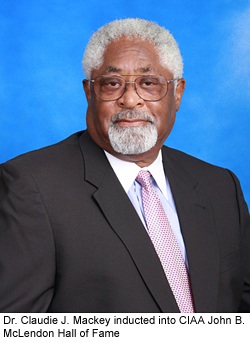 Kesha Williams
March 19, 2012
The Central Intercollegiate Athletic Association (CIAA), in conjunction with the CIAA Executive Committee, welcomed six individuals and a former championship team into the John B. McLendon Hall of Fame. Honorees were inducted on Friday, March 2 during the CIAA's 100th anniversary tournament celebration at the Charlotte Convention Center.
The McLendon Hall of Fame inductees have earned top recognition on the playing field and in their communities and have been staunch supporters of the CIAA:
Dr. Claudie J. Mackey, Elizabeth City State University – Basketball, Track, Professor
Ralph Tally, Norfolk State University- Men's Basketball
Warren Bruce Spraggins, Virginia Union University – Men's Basketball
Donald Evans, Winston-Salem State University – Football
Diedra Fields Hines, Bowie State University- Women's Basketball, Volleyball
Vic Fulp, Progress Index and Richmond Times-Dispatch, Sports Reporter (Posthumous)
1950 CIAA Tournament Championship Team, North Carolina Central University – Men's Basketball
Dr. Claudie J. Mackey, faculty athletic advisor for Elizabeth City State University, competed in Men's Basketball and Track for the Vikings from 1961 to 1965. He then entered the National Football League as a free agent for the Dallas Cowboys from 1965 to 1966. Mackey spent two years in semi-pro football with the Charleston Rockets and the Brooklyn Dodgers of the Continental Football League. He completed his active football life with the Golden Knights of Brooklyn, N.Y. In addition, Mackey played pro basketball for one year with the Trenton Colonials of the Continental Basketball Association.
Mackey began his collegiate coaching career in the City University of New York system, where the team participated a national championship in the early 1970s. He later returned to his alma mater, ECSU, where he coached the university's basketball, track and cross country teams from 1977 to 1995. Mackey has served on several sports committees and currently sits on the NCAA Championships Committee. Today, he serves ECSU as the Marc Basnight Endowed Professor and a distinguished professor in the Dr. Helen Marshall Caldwell School of Education and Psychology. Â Mackey recently reflected on the career that led to his induction in the CIAA Hall of Fame:
&quotBeing the sixth person from Elizabeth City State University to be selected for induction is an honor in itself. The coming together of my athletic career as a player, as a coach and as an advocate for Division II basketball became the basis for my induction. For that, I am truly thankful.
&quotThere are many, many more athletes from Elizabeth City State University who are worthy of induction. Going through the ceremony, I realized there were a whole lot of alums present who felt not only was one of their own being recognized, but that period and time they attended the university was being recognized,&quot he continued.
&quotMy journey to this point started in 1961 as an athlete who did not see the kinds of pleasantries that are now available for fans or student athletes. Those eight teams that participated in the tournament often stayed together in the host gymnasium or other places that were available to house the teams. At that time, the teams were not permitted to stay in hotels. To come from that to where we are today, the change has been rewarding to see,&quot he said.
&quotOne thing about the old days, relationships were built among athletes and we remain friends. When many of us are together at today's tournaments, we reflect on how things were and we realize those moments had positive impacts on us as individuals.&quot
&quotThe one piece I don't see now that I would like to see is a way to change this pattern of sending home the teams that lose at the tournament. In doing so, they never get to see what the CIAA conclusion is like. We are not developing new (CIAA) fans that way. They graduate and do not develop a desire to go back and be a part of it all.&quot
&quot I wish we could find a way to create an atmosphere where they can get to know each other better– off the court. That's what develops relationships — relationships that become special over the years.&quot
The CIAA contributed to this press release.
---