DOT grant supports ECSU Summer Transportation Institute
---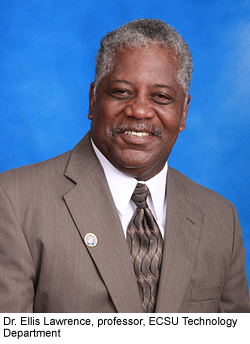 Kesha Williams
May 31, 2011
Dr Ellis Lawrence, a professor in the ECSU Technology Department, has received a $58,000 grant from Federal Highway Administration (FHWA) to sponsor a four-week Summer Transportation Institute for 16 high school&ampnbspstudents from four surrounding counties. The students have expressed a keen interest in&ampnbspscience, technology, engineering or mathematics.&ampnbspThe focus of the summer institute will be robotics and unmanned aerial vehicle research.&ampnbsp
Four field trips are scheduled for the students:&ampnbsp NASA Langley Research Center in Hampton, Va, U.S. Naval Research Laboratory in&ampnbspWashington, D.C., the NC Department of Transportation Material Testing Laboratory in Williamston,&ampnbspN.C., and the Wright Brothers National Memorial in Kill Devil Hills, N.C. This summer institute program is designed to:
Expose students to various modes of transportation (land, air, water, and the incorporation of safety topics).
Include activity-based presentations by professionals who work in areas related to the mode being studied and field trips to businesses or government agencies.
Provide hands-on activities such as laboratory activities, project design, construction and testing that may culminate with student competition.
The curriculum at ECSU will focus on computer aided design, computer programming, mathematics, model building and report writing as it relates to transportation.
Lawrence has also received funding for four interns (ECSU students)&ampnbspwho will earn $3,500&ampnbsp per person from North Carolina Department of Transportation (NCDOT) to assist the high school students who are conducting their research.&ampnbspThose interns will also be responsible for completing assigned projects from the NCDOT. The interns will present their research at the North Department&ampnbspof Transportation at the end of eight weeks in Raleigh, N.C.&ampnbsp
Lawrence is a leader in external and internal funding for the Technology Department.&ampnbspLawrence has received over $700,000 from the FHWA, $60,000 from the NCDOT for internships and $250,000 from NASA as a principle investigator. Lawrence was the co-principle investigator on a $2.5 million dollar NASA grant.
Lawrence said the grants, summer institute program are significant achievements for the ongoing development of the university's Industrial Technology program.
---