Donyai Moffatt receives Chancellor's Student Leadership Award
---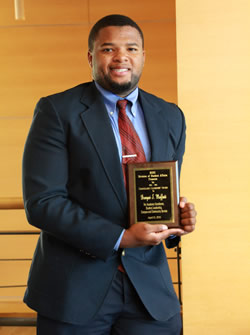 Kesha Williams
May 06, 2015
Donyai Moffatt, a senior from Kinston, N.C., majoring in aviation science is the recipient of the Chancellor's Student Leadership Award.
The award is reserved for a junior or senior who demonstrates leadership qualities, is an ambassador for the university and has exemplified a genuine passion for the university. A minimum 3.0 grade point average is required. Moffatt, who has a 3.4 grade point average, currently serves as Mr. ECSU. He volunteered for four years with the Vikings Assisting New Students. Moffatt served as the Thurgood Marshall Ambassador for two years, a Toyota Green Ambassador and the Toyota Green Initiative Contest winner. Moffatt is scheduled to begin his career with MillerCoors in Iowa City, Iowa shortly after his May 9 graduation.
The Division of Student Affairs announced the Eleventh Annual Student Affairs Leadership Awards Ceremony on April 21, 2015 where outstanding student leaders are recognized for their academic and leadership achievements.
For more on this award recipient, see his student profile here.
---