Dixon Lauds Efforts to Raise Viking Spirit in First State-of-University Address
---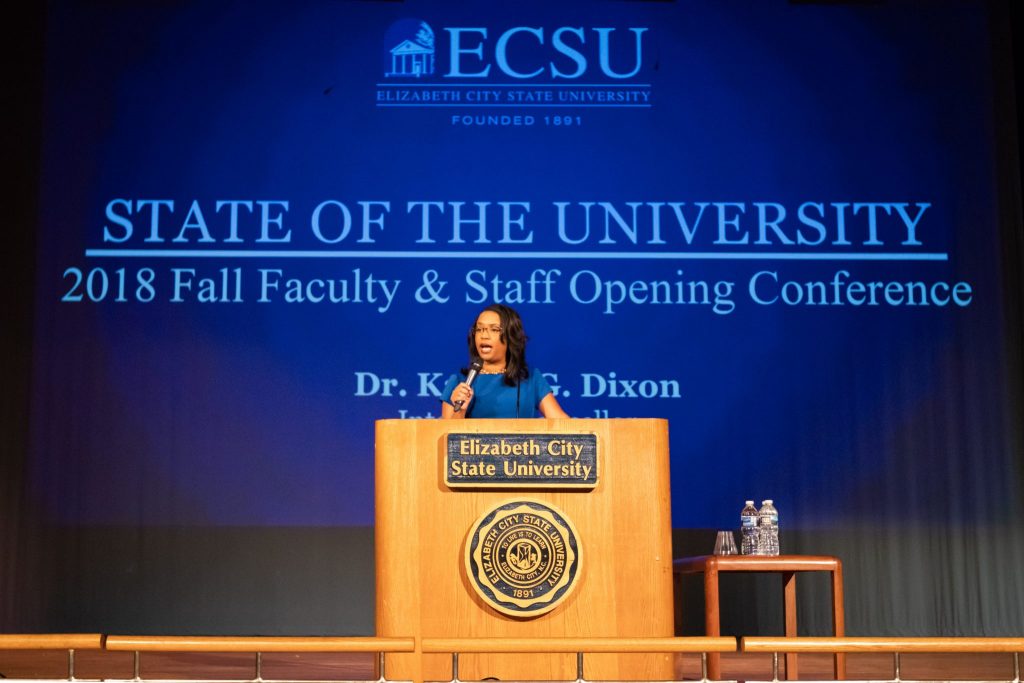 Elizabeth City State University Interim Chancellor, Dr. Karrie Dixon, gives her first State-of-the-University address during the 2018-2019 Faculty Institute Tuesday, Aug. 7. (Photo by Michael Harrison)
Elizabeth City State University's Interim Chancellor, Dr. Karrie Dixon, has a message for Vikings everywhere. Vikings, she said, have to believe in the university.
"We have to change the narrative," Dixon said in her State of the University speech at the faculty institute Tuesday, Aug. 7. "We have to make up our minds that we believe in ECSU."
This was Dixon's first State of the University address since she officially took over as ECSU's chief officer on June 1. Prior to that, Dixon worked with former ECSU Chancellor Thomas Conway to bring the university online with its operations and infrastructure.
In her address, Dixon outlined efforts made since October 2017 when she arrived on campus as a part of the New Directions Phase 2 Working Group team. Along with Conway, Dixon co-chaired efforts that examined university operational efficiencies, where changes were needed, and how to implement those changes.
"We are looking at a clear-eyed approach," she said.
That approach incorporates what Dixon says is A.C.E., or Accountability, Commitment, and Excellence. We must, she said, be accountable to each other; we must have a commitment and dedication to ECSU; and we must strive for excellence as a result of our strong interactions with one another, and students.
Examining the efforts of the Phase 2 Working Group, Dixon said it has been a "Herculean effort" on the part of University of North Carolina System and ECSU staff members. While current students have been lauding the efforts to enhance the campus's appearance, expressing excitement over the many changes to the grounds and buildings, the university's admissions and enrollment staff, led by Dr. Althea Riddick, are bringing more freshmen to campus this year, Dixon said.
Dixon said the average GPA of new freshman is 3.26, while the average SAT score is 969 and average ACT score is 18. Through the implementation and marketing of the NC Promise Tuition Program, ECSU is seeing a major increase in students from nearby Virginia on the rolls, and the "stretch goal of 1,700" students on campus this fall is in their sights, but even if that number falls short, "We will see an increase in enrollment."
"The goal is 2,000 students by 2020 and we can do it," she said.
Dixon said as current and new students arrive on campus, they are being greeted by efforts to beautify the grounds, and brand the campus to reflect the Viking spirit. Buildings are being outfitted with Viking blue walls, and the university seal, while Bedell Hall cafeteria has undergone a major redesign, reflecting the university's spirit through color, ECSU photographs, and new furniture.
"The students are proud of what we are doing on campus," she said.
And moreover, it's what is being planned for the campus that will change the landscape in the near future, bringing a new day to some of the older, historic facilities, while adding something new.
On the table are the full renovation of historic Bias and Moore Halls. The G.R. Little Library will be receiving major repairs, but no renovation work. However, the Hugh Cale building will be razed and in its place is the plan for a new, state-of-the-art campus library.
Dixon presented faculty and staff with a concept drawing of the proposed library. The crowd cheered at the image, their approval echoing through the Fine Arts Auditorium.
Next steps, Dixon said, are to draft a new university master plan, fund and construct the new library, and implement safety measures which will include all-access ID cards and campus-wide surveillance cameras.
"We're going to 'A.C.E.' this," she said, referring to her acronym for Accountability, Commitment, and Excellence.
---