Dillard University President Dr. Walter Kimbrough 2017 Fall Commencement Speaker
Posted On November 28, 2017
---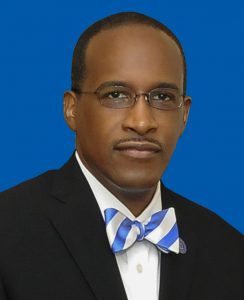 The Elizabeth City State University 165th Fall Commencement will take place Saturday, Dec. 9, at 10 a.m. in the R.L. Vaughan Center. Dr. Walter Kimbrough will be this year's keynote speaker.
A native of Atlanta, Dr. Kimbrough is the president of Dillard University in New Orleans.
A graduate of the University of Georgia, and Miami University in Miami, Ohio, Dr. Kimbrough earned a doctorate in higher education from Georgia State University. He has made his career in student affairs, serving at Emory University, Georgia State University, Old Dominion University, and Albany State University in 2000, where he became the Vice President for Student Affairs at the age of 32.
In October of 2004, at the age of 37, he was named the 12th president of Philander Smith College in Little Rock, Arkansas. In 2012 he became the 7th president of Dillard University in New Orleans.
Kimbrough has been recognized for his research and writings on HBCUs and African American men in college. He has also has been noted for his active use of social media in articles by The Chronicle of Higher Education, and in the book "Follow The Leader: Lessons in Social Media Success from Higher Ed CEOs."
He was cited in 2010 by Bachelors Degree.org as one of 25 college presidents you should follow on Twitter, by Education Dive as one of 10 college presidents on Twitter who are doing it right (@HipHopPrez), and in 2015 he was named by The Best Schools.org as one of the 20 most interesting college presidents.
A 1986 initiate of the Zeta Pi chapter of Alpha Phi Alpha Fraternity, Inc., at the University of Georgia, Dr. Kimbrough was the Alpha Phi Alpha College Brother of the Year for the Southern Region and served as the Southern Region Assistant Vice President. Dr. Kimbrough has forged a national reputation as an expert on fraternities and sororities, with specific expertise regarding historically Black, Latin and Asian groups. He is the author of the book, "Black Greek 101: The Culture, Customs and Challenges of Black Fraternities and Sororities."
Dr. Kimbrough was named the 1994 New Professional of the Year for the Association of Fraternity Advisors. In 2009, he was named by Diverse Issues in Higher Education as one of 25 To Watch. In 2010, he made the Ebony Magazine Power 100 list of the doers and influencers in the African American community, joining the likes of President and Mrs. Obama, Jay-Z, and Tyler Perry.
In February 2013 he was named to NBC News/The Griot.com's 100 African Americans making history today, a group which includes Kerry Washington, Mellody Hobson, and Kendrick Lamar. Dr. Kimbrough was named male HBCU President of the Year for 2014 by HBCU Digest.
---