Devin Cherry is Bearer of the Mace for 162nd commencement
---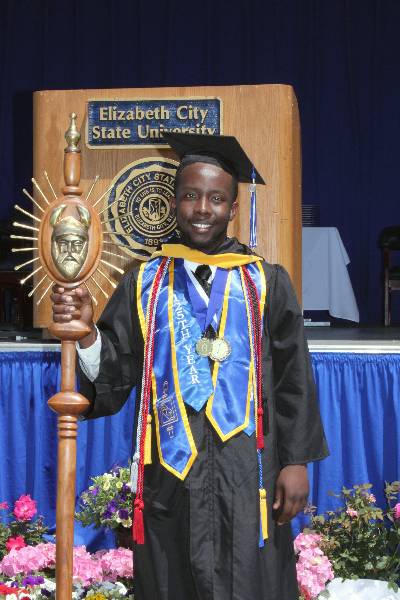 By Kesha Williams
An early morning blanket of fog gave way to sunshine just in time for students to enter Roebuck Stadium for ECSU's 162nd commencement. Devin Cherry, a senior majoring in business administration, led the line of undergraduates and served as the Bearer of the Mace. The honor of holding the university Mace is reserved for the non-transferring senior with the highest grade point average. Cherry, a native of Elizabeth City, earned his degree in four years and said the honor was an indicator he reached his full potential.
"This has been one of the most memorable weekends of my life. I felt highly honored and blessed to be able to carry the Mace and lead the class of 2016 into commencement Saturday. This honor is a result of hard work, dedication, great effort, and staying focused," Cherry said.
"Days were not always sunny but I just remembered how great commencement day would be and how I wanted a better future for myself. Attending ECSU was one of the greatest choices of my life. From day one I always felt welcomed as it felt like a second home for me."
Cherry credited all his professors with making a significant impact on his life. He recalled professors in the business department who always motivated and encouraged him to work to the best of his ability. He highly valued the opportunity to earn an undergraduate degree. Cherry set goals to assure academic success and he was determined to devote equal effort to all tasks. When he recalled activities and events that made the greatest impression on him, they were events hosted by his department.
"The National Society of Leadership and Success and Beta Gamma Sigma Business Honor Society were the most interesting programs. These organizations allowed me to stay motivated and encouraged me to strive for greatness."
"My advice for the next group of students is to stay focused and strive for greatness by any means necessary. Always be aware that no one will want to see you succeed more than you want to see yourself. Learn to motivate yourself during tough times. You never know who is looking up to you and wanting you to succeed," Cherry said.
Chancellor Thomas E.H. Conway led the ceremony. For his first commencement, the chancellor delivered a message of hope and pride to the graduates. He encouraged them to share their Viking story with the world.
Bakari Sellers, a CNN contributor, an attorney and former representative in South Carolina's House of Representatives was the speaker for ECSU's 193 graduates. Sellers earned his undergraduate degree from Morehouse College and he earned his law degree from the University of South Carolina.
See images from the 162nd commencement at the following link:
http://www.ecsu.edu/academics/commencement/photo-gallery/spring-2016.html
---