Daily Mail Senior Journalist and 2014 ECSU Graduate Valerie Henderson is Honors Convocation Keynote Speaker
---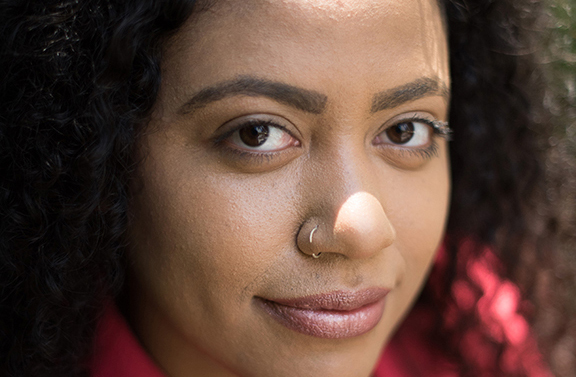 Elizabeth City State University Class of 2021 students will receive honors during the spring Honors Convocation ceremony, held virtually Wednesday, April 21 at 4 p.m. Senior reporter for the DailyMail.com, and 2014 ECSU graduate, Valerie "Val Marie" Henderson will be the keynote speaker.
Five students will receive the Chancellor's Distinguished Emblem Award blazers, and 31 students will receive Certificates of Merit Awards for the Honors Program. In addition, numerous students will receive honors awards from their departments.
"The Honors Convocation ceremony is an important affirmation of the hard work our students have put in towards earning their degrees," said ECSU Provost, Dr. Farrah J. Ward. "These honors are especially significant since these students have successfully navigated through these unprecedented times. Congratulations to all for their hard work."
Since graduating from ECSU in 2014, the event's keynote speaker, Ms. Henderson, has become a world-class journalist for The Daily Mail. She has worked in the publication's London office, for the Belfast Telegraph in Northern Ireland, and is currently located at the publication's New York City office.
Ms. Henderson was an aviation and mass communications student at ECSU. She made history as ECSU's first Black female pilot in 2011.
As a first-generation college student, Ms. Henderson is committed to public serviceand volunteers her talents to numerous organizations that serve Black communities. She is an advocate and volunteer for issues such as racial justice, LGBTQ+ rights, and awareness for historically black colleges and universities (HBCUs).
While at ECSU, she received the Excellence Without Excuse Award, was awarded the Tuskegee Airman Scholarship and three Thurgood Marshall College Fund scholarships, and she was a Ronald E. McNair Scholar and a member of the Honors Program. In 2012, she was initiated into the Delta Theta Chapter of Alpha Kappa Alpha Sorority, Incorporated, and served as the chapter's president.
Ms. Henderson served as the editor-in-chief for the ECSU campus newspaper, The Compass.
Ms. Henderson's interest in science and writing led her to intern for agencies such as NASA and the Department of Energy in Washington, D.C. After graduating from ECSU, Valerie was selected as a White House HBCU All-Star alumna and attended Columbia University where, in 2015, she graduated with a master's in journalism.
In 2016, Ms. Henderson was selected as an HBCU Top 30 Under 30 distinguished scholar.
Ms. Henderson currently serves as the first vice-president over community programs for the oldest graduate chapter of Alpha Kappa Alpha in New York City. She has created one of the largest service projects in the Harlem community in honor of Dr. Martin Luther King Jr.
During the annual MLK Day of Service in January, Ms. Henderson led the charge to raise more than $11,000 worth of donations like toiletries, hats, gloves and other items that were then donated to four shelters in Manhattan.
You can view the virtual event Wednesday, April 21 at 4 p.m. on Facebook @ElizabethCityStateUniversity.
---