Convocation Speaker Says Celebrate Education, Celebrate ECSU
---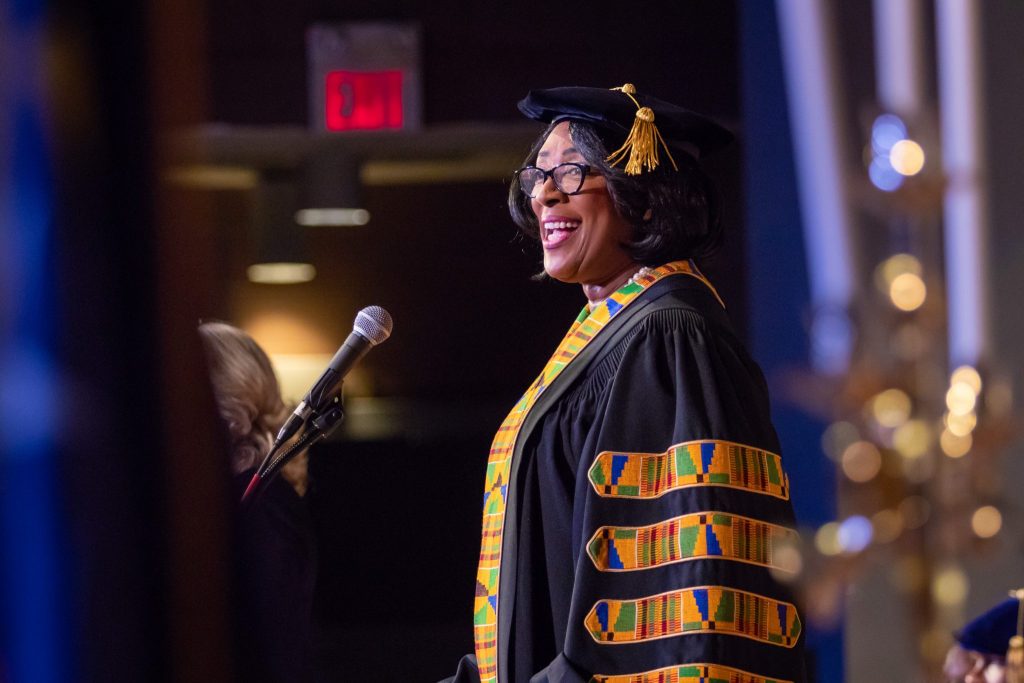 Dr. Gwendolyn Boyd was the keynote speaker for ECSU's 2019 Founders Day Convocation, celebrating 128 years of education.

Celebrate the legacy and future of Elizabeth City State University. That was the central theme of Dr. Gwendolyn Boyd's message when she spoke at ECSU's 128th anniversary Founder's Day Convocation Friday, March 8.
"We celebrate today the strength and courage of those who have brought us to this place and time," said Dr. Boyd.
Dr. Boyd is an engineer and nationally recognized proponent of STEM education. She is also an ordained elder in the African Methodist Episcopal Church.
In her keynote speech, addressed to the ECSU community, Dr. Boyd spoke of the power of the legacy left by the State Rep. Hugh Cale in 1891 when North Carolina House Bill 383 opened the way for the creation of the Elizabeth City State Normal School.
The creation of the Normal school aimed at educating African American educators for the region. However, more than a century later Elizabeth City State University is celebrating its role in higher education as a North Carolina University System school, producing leaders in all walks of life.
Today, on this campus, we know you are producing great leaders," she said.
Dr. Boyd went on to emphasize the importance of the history of ECSU, and the importance of understanding what it has taken to arrive at 128 years.
"Celebrate," said Dr. Boyd, "because you have grown from being a teacher's college to having 28 degree programs."
Dr. Boyd emphasized the cause to celebrate this history by observing that each person should, "Celebrate the evolution of Elizabeth City State University, from educating former slaves to a university today!"
A number of special guests, ECSU graduates and senior administrators, alongside ECSU Chancellor Dr. Karrie Dixon, shared the convocation stage.
"This is a time we reflect on our rich heritage, celebrate our successes, and prepare for the future," said Dr. Dixon.
She then recognized the founding families, grandchildren of John Bias, the first named president of the institution, and second leader after Peter W. Moore.
Throughout the ceremony, performances by the University Concert Choir and band aided in the celebration of ECSU's 128th anniversary and 128 years of education.
"We know that education makes the difference," said Dr. Boyd in her convocation address.
---