Concert choir performs at The White House
Posted On February 4, 2016
---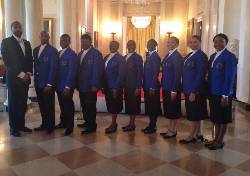 By Kesha Williams
The ECSU Concert Choir recently traveled to the nation's capital for one of their most memorable tours—inside the White House.
Dr. Walter Swan, director of choral studies, said the tour resulted from an invitation by U.S. Coast Guard Commander and ECSU alumnus Warren Judge ('97). Swan gladly completed all the travel arrangements and took the students to the White House on January 27. While the President and First Lady were not on site, the choir performed inside the residence to the delight of fellow tourists and staff. Swan said the event was not only an opportunity to perform and tour, but a means of challenging his students.
"The students were challenged to take the best photos possible using cell phones as mobile libraries and to note architectural details, acoustical properties, decorations and relevant artifacts in sight. This exercise allowed the students to form an active classroom on site and engage with an audience, capture moments in their history, and promote the university. I assure you the students sang so beautifully the other tourists will remember them as much as the White House tour," Swan said.
"As student tourists we were given clearance to sing in the Grand Ballroom. We framed the door where each President delivers his 'State of the Union Address' and performed the Lux Aurumque ["Light and Gold"] and then sang, The Impossible Dream, which I arranged and we have performed during past occasions on campus."
Upon their return to the university, the students submitted their notes and photos for review and class discussion. Swan said he remains grateful for the support of Chancellor Thomas Conway, alumni, faculty, staff and additional supporters who could not accompany the choir to Washington, D.C.
"We remain committed to inspire people with hope, kindle their love, give a voice to their joys, cheer them on to valorous deeds, and to soothe in times of despair through the platform of music. "
photo submitted by Dr. Walter Swan
---