Community Development Program guides residents to homeownership
---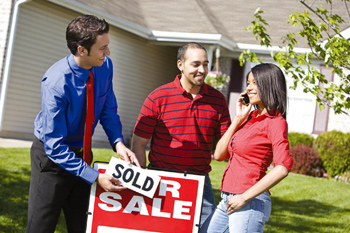 Kesha Williams
June 24, 2013
Homeownership remains one of the loftiest achievements for citizens of the Albemarle.
However, first-time homebuyers are often overwhelmed by the process of finding the right neighborhood, then financing and selecting an affordable home. For many, the Community Development Program at ECSU is just the resource they need. The staff assists low-wealth families in Elizabeth City, Pasquotank County, and communities. They hold several workshops each year at the Kermit E. White Graduate and Continuing Education Center. These quarterly workshops help consumers determine if they are ready to pursue homeownership based on their credit, income and savings. The Community Development has been operating since 1988 to help citizens make wise decisions that will suit them years down the road.
June is National Homeownership Month so there is no better time to discuss home ownership. Morris Autry, director of the Community Development Program, said the staff primarily serves low and moderate income customers but anyone can participate in their housing counseling and homebuyer education seminars.
&quotShopping for a home is a process which requires research and patience by the consumer. We want to help them identify the best deals from lenders—research the various mortgage products available. We can steer them away from predatory loans,&quot Autry said.
&quotWe are a Housing and Urban Development-approved counseling agency so our staff has the experience to provide sound counseling on what could be the largest and most important purchase of your life.&quot
Autry assures clients the Albemarle has a wonderful selection of homes for sale. Consumer preferences vary depending upon their past experiences. Some clients who are downsizing prefer a small house with a patio that will allow them to cook and entertain guests outside. A Better Homes and Gardens Real Estate Survey revealed many consumers are leaning toward preferences that meet specific lifestyles– different than the luxury homes their parents or grandparents may have chosen. Many young consumers, particularly singles, are bypassing the floor plans of the past three decades that included an isolated, formal dining room and a spare bedroom reserved only for guests. The dining room and former living room are more likely to converge these days into a home theater. There, family and friends gather for meals, movies, sports shows and more before drifting to the nearby deck for beverages. That spare bedroom is more likely to serve today as a home office where family projects and hobbies (jewelry designing, crafting, sewing) are also completed.
&quotWe help customers find homes that are ready for occupancy. Some modest changes can be made over time to suit the homeowner's needs or entertainment preferences. First time homebuyers should realize their first home may not have every feature of their choice but affordable decorations or modest upgrades can make what initially appeared to be a simple, starter home, a lovely home.&quot
Autry noted that consumers who received homebuyer counseling are less likely to incur financial hardships than consumers who forgo counseling. A common pitfall for some homebuyers of the last 10 years, were those who purchased more square footage than they could afford to maintain. Autry said their staff can also assist qualified, first-time homebuyers with down payment and closing costs.
Free, homebuyer workshops are publicized on the Community Development Program's website and they are publicized in local newspapers and on radio stations. For more information, call 252-335-3702.
---