Community Connections: ECSU to Host Virginia Symphony Orchestra on March 4
Posted On February 23, 2023
---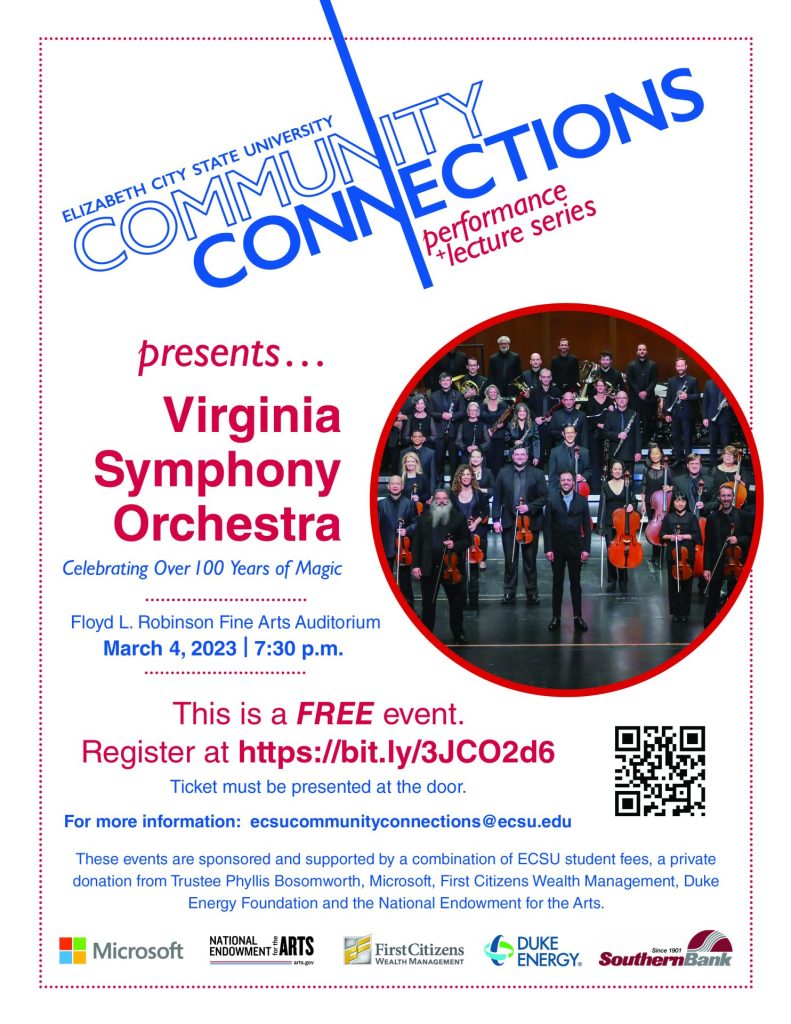 Elizabeth City State University (ECSU) will host the Virginia Symphony Orchestra (VSO) (https://virginiasymphony.org/) on Saturday, March 4, 2023, at 7:30 p.m., as part of the Community Connections Performance and Lecture Series. The free event will take place in the Mickey L. Burnim Fine Arts Center's Floyd L. Robinson Auditorium on ECSU's campus.
The Virginia Symphony Orchestra is southeastern Virginia's most celebrated musical, educational and entrepreneurial arts organization. The VSO has received national attention for its mission of serving a home area of 1.7 million across the diverse communities of southeastern Virginia. Through appearances at the Kennedy Center and Carnegie Hall and commitment to adventurous programming, the VSO and its musicians have been highlighted in the media including The New York Times, The Washington Post, National Public Radio and BBC Worldwide News. As the largest performing arts organization in southeastern Virginia, the VSO and VSO Chorus present more than 150 concerts and events annually for more than 100,000 residents and visitors.
As part of the performance, an original work by Christopher Palestrant, Ph.D., ECSU professor of Music Composition and Theory and internationally recognized composer, will be performed. He joined ECSU's faculty since 2001. Palestrant's work, "Rondo 'n Roll," is the third movement of his Soda Shop Suite. Palestrant wrote the score at the request of the Virginia Symphony's assistant principal cellist, Rebecca Gilmore and their principal double bass, Christopher White. It features the two musicians as soloists with the VSO. Palestrant notes that it is "a joyous piece, mixing popular musical styles like rock and roll with traditional forms of the 18th century."
The event is free and open to the public, but registration is required to attend. Sign up today: https://bit.ly/3JCO2d6. The event will not be livestreamed.
---