'Community College Partnership Day' Brings Regional Educators Together at ECSU
Posted On February 20, 2018
---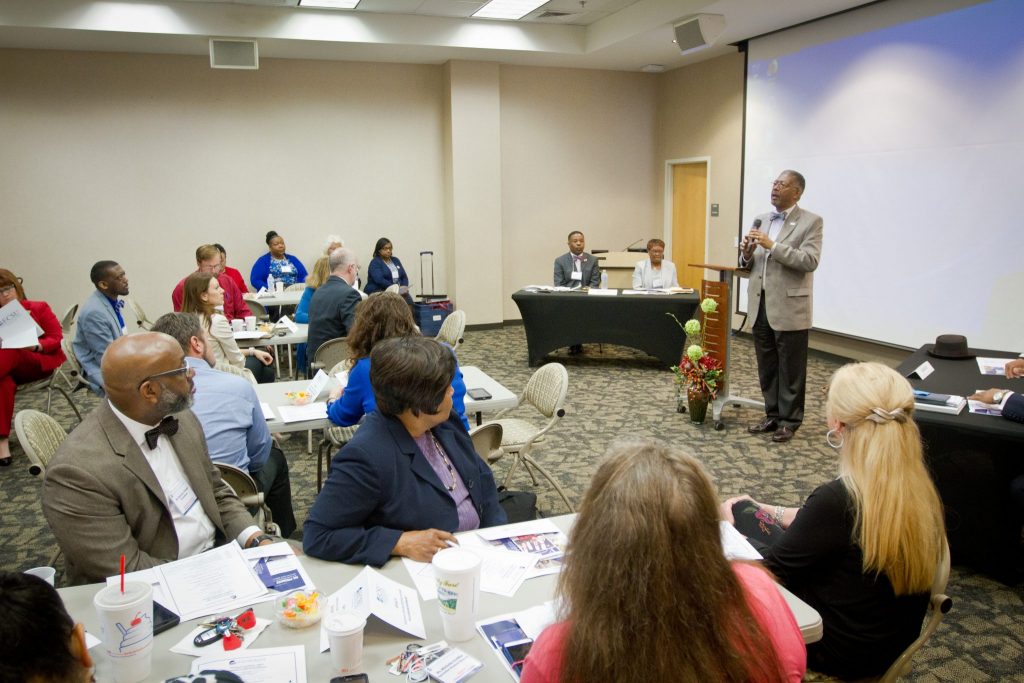 Elizabeth City State University Chancellor Thomas Conway welcomes a room full of North Carolina community college educators and administrators during "Community College Partnership Day," Tuesday, Feb. 20.
Elizabeth City State University educators and administrators are working hard to build many pathways to success for students, and building strong partnerships with North Carolina's community colleges is high on the list.
"Across the state of North Carolina we've been talking a decade or so on how to build this relationship with community colleges and the University of North Carolina institutions," said ECSU Chancellor Thomas Conway, welcoming nearly 100 educators and administrators from regional community colleges. "Now we've come together to talk about better ways to build partnerships."
Chancellor Conway made those welcoming remarks Tuesday, Feb. 20, during the opening minutes of "Community College Partnership Day," organized by the Department of Academic Affairs.
In the fall of 2017, ECSU signed partnership agreements with several regional community colleges, including Halifax Community College. The goal is to make matriculating from ECSU as accessible as possible for students in the rural counties of Northeast North Carolina.
According to Provost Vann Newkirk, social work, criminal justice, and elementary education have been three key areas of concentration. The agreements bring bachelor's degree programs in these three areas of concentration to community colleges through ECSU, allowing rural students an opportunity to continue their education after obtaining an associate's degree without leaving their home county.
Chancellor Conway said in his remarks that the role of the community college is important to the cause of higher education. Students, he said, who graduate with an associate's degree have a better chance at graduating with a bachelor's degree from a four-year institution. In addition, many students who would like to earn a four-year degree may not meet the academic requirements right out of high school, and community colleges give them an opportunity to not only complete a program, but also prepare for a four-year institution.
During the admissions cycle, Chancellor Conway said they meet many of those students. With a strong partnership with community colleges, admissions counselors can direct those students to the two-year programs.
"That's a cadre of students we can refer back to you," he said.
Chancellor Conway also said the role of the community college extends beyond graduation from a four-year program. He noted that in today's world, education is a life-long pursuit and many four-year graduates may find they require additional certification.
"They're going to look to you," he said.
Newkirk told the crowd of educators that, "We are learning how to help each other," and these partnerships can lead to jobs for many students.
ECSU, he said, is committed to creating a "seamless partnership" with community colleges.
Remarks were also given by ECSU professors, and the admissions team, including interim director of enrollment Dr. Althea Riddick, herself a former provost for College of the Albemarle. She and Associate Director of Admissions, Darius Eure, briefly discussed the student transfer process.
The guest educators broke off into information and discussion groups. Those groups focused on a variety of degree programs offered by ECSU, including Emergency Management, Education, Technology, and several others.
---