Col. Richard Harrison Continues to Make History as First ECSU Alumnus Promoted to U.S. Army General
---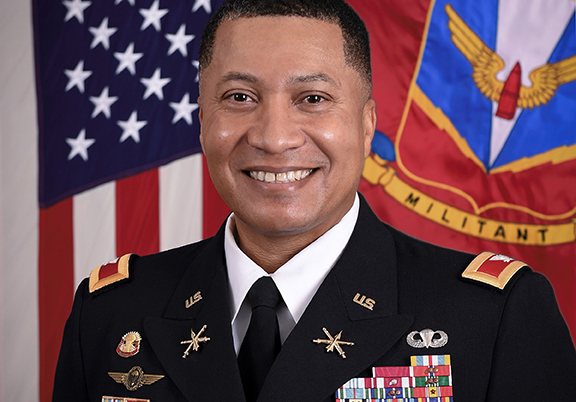 Elizabeth City State University graduate, U.S. Army Col. Richard Harrison, just made history for a second time this year, becoming the first alumnus to be promoted to the rank of general. Col. Harrison will officially receive his promotion to brigadier general during a pinning ceremony June 2. 
In March, he made Army history as the first African American commandant of the Air Defense Artillery (ADA) School, the 44thofficer in Army history to be named to the post.
Col. Harrison is a 1994 ECSU graduate. He recently received the Chancellor's Legacy Award for his service to his alma mater.
Col. Harrison grew up in Sunbury, North Carolina. His mother worked in a sewing factory and his father drove trucks that took him away from home, except on weekends. In an interview last March, he said it was there, at home, that his parents' example taught him how to serve others.
His mother drove older relatives to appointments or the grocery store as there wasn't one in their town. Though his father was on the road a lot, on weekends he worked around the house and helped neighbors.
He said weekends offered time to go out and have fun, but with one weekly requirement.
"We grew up in church, going quite a bit," Col. Harrison said. "Really it was a sense of service. I was an usher and sang in the choir. I watched my family and my community take care of each other."
Leaving behind his teenage years, he matured into adulthood even as the desire to continue to serve others made military service a good choice for a career.
Although he saw other service members who came home and went to church in their uniforms, Col. Harrison said they were enlisted members of the military.
"I wanted to show the younger generation that being from a small town didn't prevent you from becoming an officer in the military," he said.
As Col. Harrison headed off to college, he did so as an ROTC cadet at ECSU, where he also met his future wife.
"We both had goals and wanted to make something of ourselves," he said.
During his acceptance speech as the new ADA school commandant, Col. Harrison said pride, hustle, and desire (PHD) helped him to excel and to overcome career obstacles.
Col. Harrison holds a bachelor's Degree in business administration from ECSU, a Master of Arts in Policy Management from Georgetown University, and a Master of Science in Strategic Military Studies from the United States Army War College.
He is married to ECSU alumnae Tyra Jones Harrison. They have three children. 
---