Coast Guard-HBCU Summit Puts Focus on Diversity and Inclusion
Posted On September 25, 2019
---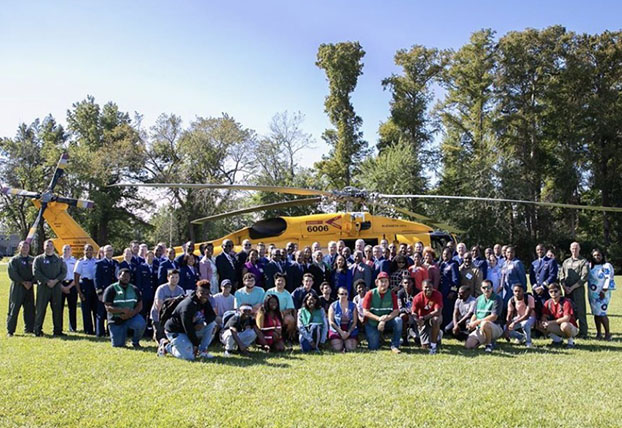 Members of the U.S. Coast Guard, HBCU leaders, and ECSU students and staff came together for the second annual U.S. Coast Guard-Historic Black College and University Training & Leadership Summit Wednesday, Sept. 25.
It's a relationship that keeps on getting better and keeps on growing; the United States Coast Guard and Elizabeth City State University, along with other HBCUs, have been working side-by-side to build a strong future for young men and women.
That was the message, in a nutshell, during the opening comments of the second annual U.S. Coast Guard-Historic Black College and University Training & Leadership Summit. The event, held on the ECSU campus, kicked off Wednesday, Sept. 25 and will run through the end of the day Thursday, Sept. 26.
"A year ago," said ECSU Chancellor Karrie Dixon, "Adm. (Keith) Smith attended an ECSU football game. We had never met. He was so passionate about forming a relationship with ECSU and I was so excited. We both agreed to be intentional about this partnership."
That meeting would lead to the signing of a Memorandum of Understanding between the Coast Guard and ECSU, a re-commitment to work together to educate and develop future officers through the College Student Pre-Commissioning Initiative. Then, last year, Norfolk State University hosted the first summit and when it was done, Chancellor Dixon was ready to pick up the gauntlet and host the second annual event.
"Why are we here today? We have a common interest in helping educate and advance young people," said Rear Adm. Smith, commander of the Coast Guard's fifth district.
The summit included university presidents and representatives from a number of HBCUs. Joining ECSU at the summit was Norfolk State University, Hampton University, Virginia State University, Bowie State University, and South Carolina State University.
The summit concentrated on a number of areas, including looking at CSPI. The CSPI program gives eligible university students an opportunity to become a part of the Coast Guard as juniors, with an eye on attending Officer's Candidate School after graduation.
A number of ECSU juniors became CSPI students, and went on to have fruitful careers as Coast Guard officers.
Speakers throughout the event also included representatives from the White House HBCU Initiative, the Department of Homeland Security, and a career fair that offered students the opportunity to learn more about federal job opportunities.
A major theme throughout the summit was diversity and inclusion. Adm. Smith said the future relies on diversity.
"In the Coast Guard, diversity and inclusion is a game-changer," he said. "We are here because of that. We want to make a difference. We understand the priority."
The Coast Guard's Atlantic Area commander, Vice Adm. Scott Buschman, reiterated the importance of diversity and the need to continue working with HBCUs to bring those students into the service, as well as federal jobs.
"This can't be a one-time deal," he said. "This has to be a continuous dialogue.
Also attending the summit were numerous Coast Guard officers and enlisted men and women. Many of the officers, such as Cmdr. Warren Judge, are HBCU graduates. Cmdr. Judge is a 1997 ECSU graduate who most recently served as Coast Guard Base Elizabeth City's executive officer, the second highest ranking officer on base.
---