Coast Guard, ECSU Strengthen Relationship with Memorandum of Agreement
Posted On February 14, 2019
---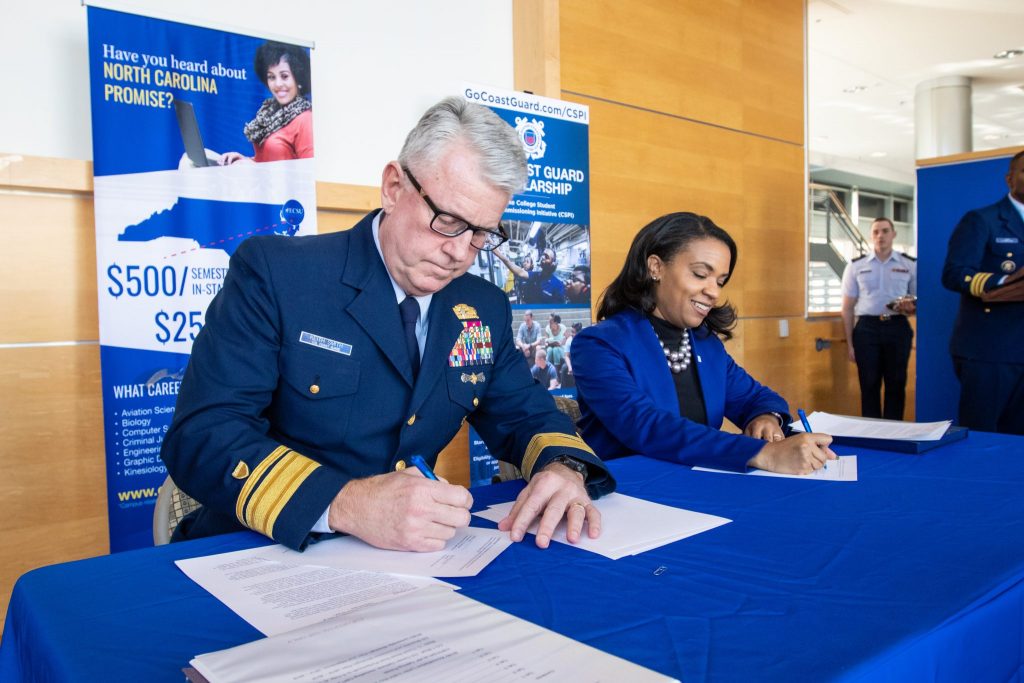 Coast Guard Rear Adm. Keith Smith, left, and ECSU Chancellor Karrie Dixon sign a Memorandum of Agreement Thursday, Feb. 14.
The future of Coast Guard aviation may well rest, in part, at Elizabeth City State University.
Members of the U.S. Coast Guard and ECSU's administration gathered Thursday, Feb. 14, to celebrate and continue an alliance that brings the two together to educate young men and women and bring them to the Coast Guard for careers in aviation, and more. During a ceremony held in the Ridley Student Center, the Coast Guard's commander of the Fifth District, Rear Adm. Keith Smith, joined ECSU Chancellor Karrie Dixon to sign a Memorandum of Agreement to work together for the future of students, ECSU, and the Coast Guard.
"Today when we sign this MOA, this is about a relationship; it's about a commitment," said Smith. "When we look at this MOA, this is a continuation of a long relationship."
ECSU has been a key player in the College Student Pre-Commissioning Initiative, or CSPI, bringing university juniors and seniors, together with the Coast Guard for a career as officers. Students attending ECSU, who meet the program requirements, become members of the Coast Guard and upon graduation enter Officer Candidate School.
Beyond that, while Smith said they could choose any career in the Coast Guard, many choose to become aviators and attend flight school in Pensacola, Florida. The CSPI program at ECSU has produced 19 officers, and currently three students are earning their degrees before they go on to officer candidate school.
"We are strengthening this partnership by being intentional in what we do," said Dr. Dixon," and continuing our efforts to serve students and foster our relationship with the Coast Guard.
Smith and a number of Coast Guard officials joined Dr. Dixon and ECSU staff on a tour of the university, and specifically the aviation lab. The aviation science program has produced pilots serving in the Coast Guard, one of which is currently serving on base in Elizabeth City.
During a brief press conference after the signing ceremony, Smith said the Coast Guard is looking for more pilots and working with ECSU, "is a perfect match."
The only four-year university in North Carolina offering a degree in aviation, and flight training with its 10-plane fleet, future Coast Guard aviators are able to begin earning their wings on campus before launching a career in the service. And beginning in fall 2019, ECSU will offer a degree in drone technology.
"Aviation is in high demand and will continue to be in high demand for us," said Smith.
Joining Smith and Dr. Dixon were a number of officials from the Coast Guard, including Base Elizabeth City commander, Cmdr. Randy Meador, and base executive officer, and ECSU graduate, Cmdr. Warren Judge. Elizabeth City Mayor Bettie Parker and other town officials also joined the ceremony.
---