Cheer Team, Student-Athletes Volunteer at Food Bank
Posted On November 17, 2017
---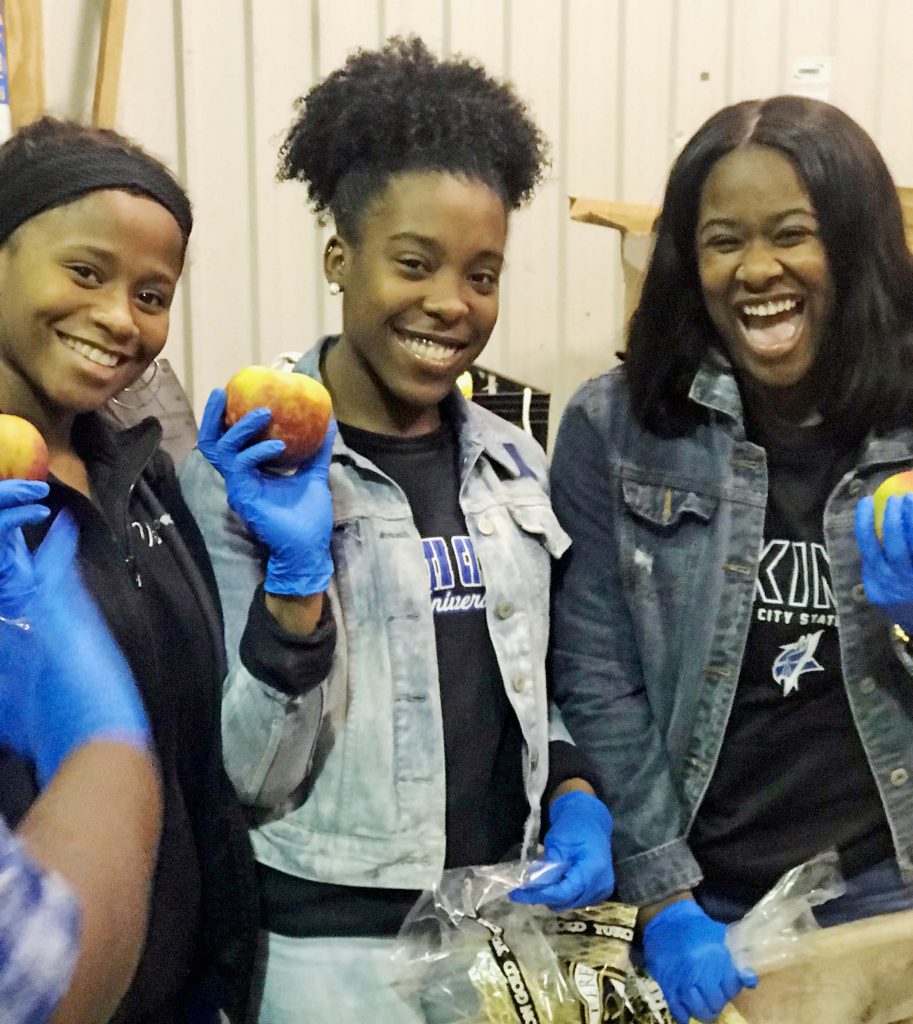 Members of the ECSU Cheer Team, along with ECSU student-athletes, volunteered at Food Bank of the Albemarle Thursday, Nov. 16.
The Elizabeth City State University cheer team and student-athletes visited the Food Bank of Elizabeth City to lend a helping hand bagging food for people in need during the holidays Thursday, Nov 16.
The students bagged food items, particularly apples.  In addition, the Food Bank will be on hand during the Rise Against Hunger event Sunday, Nov. 19, at the R.L. Vaughan Center to bag more apples for holiday food aid.
This year's event is sponsored and hosted by ECSU.  Rise Against Hunger benefits Stop Hunger Now, an organization that provides dry goods to be packaged as meals and boxed for shipment. Churches and community organizations hold events, asking people to spend an afternoon assisting with packing the meals.
For past events, churches such as Mt. Carmel Missionary Baptist Church, and Christ Episcopal Church, have hosted Stop Hunger Now. However, with growing interest in the annual event, bringing it to the Vaughan Center not only provided plenty of space for hundreds of volunteers, but also community fellowship.
This year, according to Russ Haddad, special assistant to the Chancellor, ECSU was approached by those same churches and was asked to not only host it, but also organize the event, bringing in the hundreds of volunteers anticipated for the afternoon of community service.
The Food Bank provides food to people in need, so it was rewarding, the students said, to be able to help in anyway, particularly since it is the holiday season.
"It was a good experience," said senior Justyn Smith. "I don't look at it as community service but as the ECSU community coming together as one to help those in need."
Follow Elizabeth City State Athletics via its official website at: www.ecsuvikings.com to get pre and post-game stories and updates. Like us on Facebook at: ECSUVikings Athletics and follow us on twitter at: @ECSUVikings
---