Chancellor's Legacy Awards distributed to ten honorees
---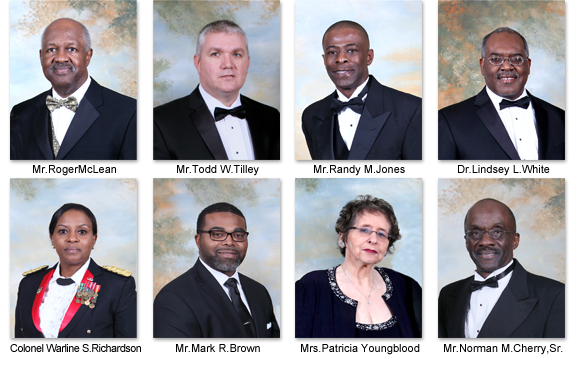 Kesha Williams
March 19, 2012
The ECSU Foundation presented the Chancellor's Legacy Awards to several outstanding citizens in eight categories during the fifth Founders Scholarship Gala March 10 at the Kermit E. White Graduate and Continuing Education Center. The honorees were announced at the scholarship gala that is held to raise funds for scholarships. The awardees and the categories for which their award was given follow:
Norman Cherry, Sr. (Education/The Arts Awards) Cherry is a 1964 graduate of the university who made a career as an educator (teacher, coach, principal). He served the community as a Bertie County Board of Commissioners, member of the university's National Alumni Association, deacon for Mount Olive Missionary Baptist Church (20+ years), the Bertie County Rural Health Board of directors (19 years) and member of Omega Psi Phi fraternity.
He earned a B.S. degree in education from ECSU and a Master's degree in Education Administration from East Carolina University.
Todd Tilley and Patricia Youngblood (Community Service Award)
Tilley is a 1995 graduate of the university. He has 22 years of experience in the North Carolina Court system. His posts there included deputy clerk of Superior Court and Perquimans County Magistrate. He has served the Hertford Volunteer Fire Department for 25 years where he currently serves as chief. He is a member of Hertford United Methodist church, the Rotary Club of Hertford, the Albemarle community Trust Board of Directors, the NC Judicial Standards Commissions the Salvation Army Board of Directors and the Perquimans County Volunteer Rescue Squad. He currently serves as vice president of the NC Conference of Clerks of Superior Court.
Youngblood is a Licensed Clinical Social Worker and the 29-year Executive Director of Albemarle Hopeline. Youngblood has received numerous awards throughout her career, including the Paul Harris Fellow by the Elizabeth City Rotary Club, the Nancy Susan Reynolds Award for Personal Service, the North Carolina Business and Professional Women's Club Career Woman of the Year Award, Elizabeth City Rotarian Career Service Award, and the Peace Award from the Sunshine Lady Foundation. She presently serves as a member of The Elizabeth City State University Foundation Board, Food Bank of the Albemarle Advisory Board, Albemarle Region Criminal Justice Partnership Program Advisory Board, and Albemarle Commission Area Agency on Aging Advisory Board.
Bishop Kim Brown (Faith-based Community Award) Brown is the senior pastor of Mt. Lebanon Baptist Church affectionately known as The Mount, which has locations in Chesapeake, Virginia and Elizabeth City, North Carolina. Bishop Brown received his Bachelor of Science in Engineering from Norfolk State University. His academic preparation for the gospel included a Master of Divinity degree received in 1991 and a Doctorate of Ministry degree received in 1998 from Samuel D. Proctor School of Theology at Virginia Union University.   In 2004, he was appointed to the Chesapeake Regional Medical Center's Board of Authority and in 2008 he was named Chairman. He is the author of the bestselling book, Marriage Talk. Brown could not attend the ceremony but was appreciative for the recognition.
Roger McLean (Government Award) McLean, earned a B.S. degree and an MBA from North Carolina Central University. His work experience included posts with the United States Army Auditing Agency, the North Department of State Auditors, and ECSU. Currently, he operates R. A. McLean &ampamp Associates and is a financial professional with Prudential Financial. McLean is a special assistant to the president of Livingstone College and is a former mayor of Elizabeth City (2009-2011). He is a member of Alpha Phi Alpha Fraternity, Rotary International, Masonic Lodge #354, Elks Lodge 142, NAACP, Union Chapel Missionary Baptist Church, and a member of the alumni association of North Carolina Central University.
Mark Brown (Business Award) Brown, a native of Elizabeth City, is a 1995 alumnus of the university who earned a B.S. in Accounting here and a M.B.A in Finance from Clark Atlanta University in 2002. He is Executive Director/Owner of Village Learning Solutions, LLC, Chairman of the Audit Committee for the ECSU Foundation, Treasurer for the Wake Forest/Rolesville Alumni Chapter, and a member of Kappa Alpha Psi.
Prior to owning &ampamp operating VLS, Mark was the Business Development Manager for One United Bank, the nation's largest black-owned bank (2004 – 2007). Brown is also one of the founders of Dynasty 5, LLC, a promotions and entertainment company that has contributed more than $100,000 to black colleges and universities in the past 7 years.
Dr. Lindsey White (Science/Medicine Award) White is a native of Elizabeth City, a graduate of UNC-Chapel Hill where he received a Bachelor Science degree in Pharmacy. He earned a Doctor of Medicine degree from the Bowman Gray School of Medicine-Wake Forest University. He completed his internship and residency at East Carolina School of Medicine-Pitt County Memorial Hospital. Later, he received his certification in cardiology at St. Vincent Hospital in Worcester, Massachusetts.
He is president and owner of Eastern Carolina Cardiovascular, Outer Banks Urgent Care-Nags Head, NC Outer Banks Cardiopulmonary Rehabilitation Center in Kitty Hawk, NC, The Outer Banks Heart Center in Nags Head, NC Chowan Heart Center in Edenton NC Medical Service of Washington County in Plymouth NC Partner with Dare Heart Center in Kitty Hawk, NC and he started a Family Practice in Powellsville, NC.
Randy Jones (Sports/Entertainment Award) Jones is a 1996, alumnus of ECSU who earned a BS degree in Health and Physical Education. He served the university as sports information director from 1998- 2000. Jones has worked the past 11 years with WRVS-FM as an on air talent and program director. Â He has hosted and co-hosted a number of shows at the radio station including &quotNeo-Soul Cafe, and he serves as &quotVoice of the Vikings&quot on the Viking Sports Network.
Col. Warline Richardson (Military Award) Richardson, a 1989 alumna of the university, is a native of Roanoke Rapids, N.C. who has served in the U.S. Army since she graduated from ECSU. She also holds a master's degree in Human Resource Management from Webster University, Saint Louis, Missouri. She is currently pursuing a doctoral degree in educational leadership.
Richardson's military education includes the Air Defense Artillery Basic and Advance Courses, Airborne School, the Combined Armed Services Staff School the Army Command and General Staff College, Leavenworth, Kansas, the Defense Support of Civil Authorities, and the Federal Emergency Management Basic Course.
Richardson's awards and decorations include the Bronze Star Medal, Meritorious Service Medal w/five OLC, Joint Service Commendation Medal w/two OLC, Army Commendation Medal w/four OLC, the Joint Service Achievement Medal w/two OLC, the Army Achievement Medal w/five OLC, the National Defense Service Medal, the Armed Forces Expeditionary Medal, the Southwest Asia Service Medal, the GWOTS, the Humanitarian Service Medal, the Kuwait Liberation Medal, the Parachutist and the Army Staff Badge.
Richardson is a member of the Alpha Kappa Alpha Sorority Incorporated and a hometown member of the Carters Chapel Baptist Church in Roanoke Rapids, N.C.
---