Chancellor Shines Light on ECSU Success in Community/Campus Forum
Posted On February 16, 2018
---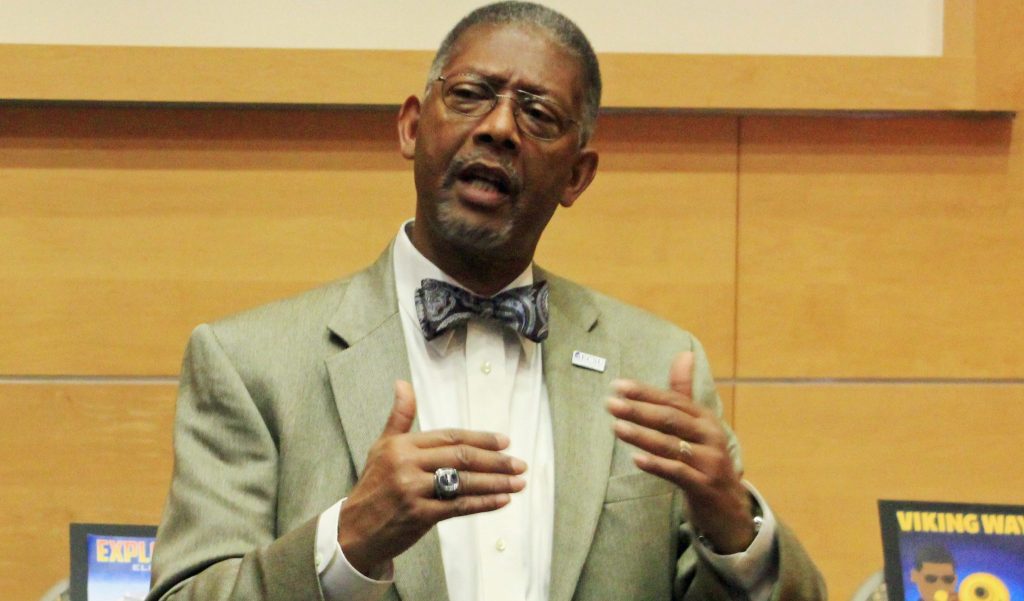 Elizabeth City State University Chancellor Thomas Conway speaks at a recent community forum. Chancellor Conway has been holding a series of forums since early 2016, designed to connect ECSU and the the surrounding community.
The N.C. Promise Tuition Program is gaining speed and people are taking notice, according to Elizabeth City State University Chancellor Thomas Conway.
That was just part of the message Chancellor Conway delivered Thursday, Feb. 15, at a community/campus forum.
The N.C. Promise Tuition Program will take effect in the fall of 2018 and lower in-state tuition to $500 a semester, and out-of-state tuition to $2,500 a semester. It is a program legislated by the North Carolina General Assembly to address the rising cost of college tuition, and includes ECSU, the University of North Carolina-Pembroke, and Western Carolina University.
"We are getting a lot of interest about applying to this institution because of N.C. Promise," he said.
Chancellor Conway has been holding a series of community forums, both on and off campus since early 2016. The purpose of the forum is to bring the campus community and the greater Elizabeth City community together, establishing a stronger "gown and town" bond.
Speaking to a crowd of university faculty and staff, students, alumni and community leaders, Chancellor Conway said the efforts to move ECSU forward have been paying off and when he retires May 31, he is confident the university is in a position to launch forward and continue its tradition of success.
"It was my personal goal when coming here to make sure ECSU does what it needs to do to live up to its reputation and heritage," he said.
Chancellor Conway said that ECSU has overcome challenges in recent years and there is a great deal of good news to spread about the university's growth. With many new programs, and the recent efforts of a second working group, policies and procedures are being put in place that are driving the school's success.
He also said that the working group, consisting of Board of Governors and Board of Trustees members, will be working on initiatives to request additional support for the institution from the North Carolina General Assembly. The first working group, he said, sought support for new programs and the current working group is looking at the "physical condition of the campus."
"The idea is to have a stronger and more efficient institution," he said of the efforts of the working group.
One of Chancellor Conway's personal goals has been to bridge the gap between the university and the surrounding community. This is, he said, a community of higher education and he wants to see ECSU out in the community, and the community on campus.
He introduced Elizabeth City Councilwoman Jeanie Young, whom he has been working with on a new committee, Connect EC, to begin bringing the community and its three institutions of higher education – ECSU, College of the Albemarle, and Mid-Atlantic Christian University – together.
"The institution is growing in the way we want it to grow," Chancellor Conway said. "We are your hometown institution."
He also addressed student success and the work being done to ensure that more and more students not only have an opportunity to find success once enrolled at ECSU, but also out in the world, as Viking alumni. Students graduating from ECSU, he said, have a high success rate in the job market, and there is great opportunity for future graduates of the university.
Chancellor Conway announced his retirement earlier this year. Once he leaves on May 31, UNC System Vice President of Academic and Student Affairs, Dr. Karrie Dixon, will take over as interim chancellor on June 1.
Chancellor Conway expressed his confidence in Dr. Dixon, and added that a national search for a permanent ECSU chief executive will take place. He said that according to North Carolina policy, a national search must be launched for a permanent chancellor.
---