Chancellor Gilchrist joins the Laboratory School for Circle Time
Posted On December 14, 2009
---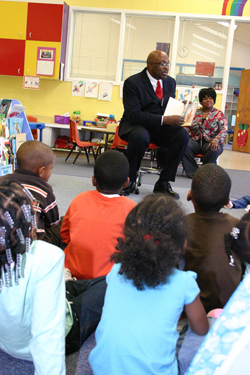 Kesha Williams
December 14, 2009
Students at the Laboratory School welcomed Chancellor Willie J. Gilchrist as their guest reader at Circle Time. During Circle Time, the teachers and students review activities scheduled for the day, review their numbers, and alphabets. Chancellor Gilchrist read &quotA Bears' Christmas&quot by Stan and Jan Berenstain for the youngsters. The Laboratory School, a facility open to the public, serves 20 students age 3 to 5 years-old.
Mrs. Sharon Key Sutton, director of the Laboratory School, said the students had a very productive semester. In addition to classroom instruction, the students celebrated Grandparents Day, visited a pumpkin patch and visited the ECSU Planetarium this semester.&ampnbsp The students also participated in the American Education Week assembly, Homecoming 2009 festivities and the annual Harvest Feast and Jamboree. Key Sutton said all the events, activities and classroom instruction are designed to develop the students emotionally, socially and cognitively for kindergarten and continuous learning.
Teachers at the Laboratory School include Mrs. Alice Clagon, teacher for the 3 year-old students. In the photo, Clagon is seated behind the Chancellor.&ampnbsp Staff not pictured include Mrs. Sarah Harvey, a teacher of the 4 and 5 year-old students and teacher assistant Mrs. Sonja Boyd. The Laboratory School is a five-star facility accredited by the N. C. Department of Health and Human Services Division of Child Development.
---