Chancellor Dixon Working with University Leaders Across U.S.
Posted On November 23, 2021
---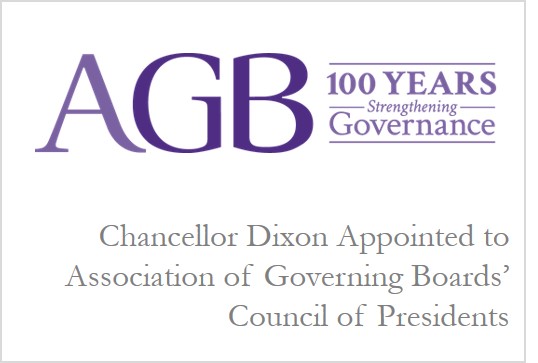 Chancellor Karrie G. Dixon has been appointed to the Association of Governing Boards (AGB) Council of Presidents.  AGB is a premier organization that includes hundreds of large, small, public, private, and system members from across the nation.
As a member of the Council of President, Chancellor Dixon is joining a community of cutting-edge thinkers and influencers affecting higher education.
"I am honored to join the AGB Council of Presidents.  At ECSU, we focus on student success, access to higher education, and utilizing technology and innovation to make economic, social, and environmental progress in our nation.  Serving on this Council is an opportunity to discuss ideas with a dynamic and diverse group of peers across the U.S.," said Chancellor Dixon.
AGB's Council of Presidents focuses on strategic leadership to empower universities with the knowledge and confidence necessary for institutional vitality and student success.  These leaders share experiential wisdom as they discuss best practices, how institutions are thriving, and the issues facing higher education.
For example, one of the biggest challenges for colleges and universities right now is shifting demographics.  As the nation's population continues to age and fewer students enter the education pipeline, it is critical to reinforce the value of higher education, innovation, and the effective use of technology.
Like ECSU, AGB is committed to the principles of justice, diversity, equity, and inclusion.  With her participation, Dixon will help shape public policy impacting higher education across the U.S.  The strategic leadership and collaboration opportunities provided by the AGB Council of Presidents will help ECSU remain a strong, vital partner of the community.
---