Chancellor Dixon Outlines ECSU Coronavirus Response in Virtual Town Hall Meeting
---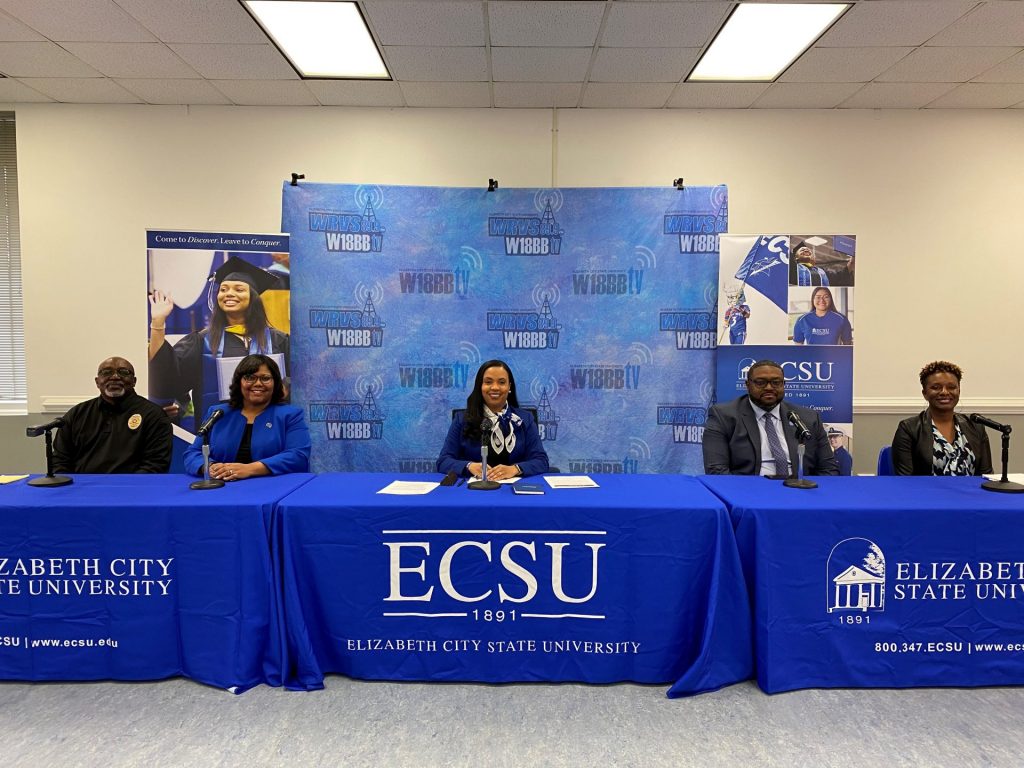 Elizabeth City State University Chancellor Karrie G. Dixon held the university's Coronavirus Response Virtual Town Hall Meeting on Facebook Live Thursday, March 17. The meeting provided an update on ECSU's response to the coronavirus as well as answered questions submitted by faculty, staff, students, parents and the community.
"We want to provide you with as much information as we can to prepare our campus community as we address this evolving situation," said Chancellor Dixon.
The following are the key points presented by Chancellor Dixon:
There are no confirmed cases of COVID-19 on the ECSU campus at this time;
Per the UNC System office, all campuses will remain open and continue to deliver high-quality instruction for our students. "ECSU is not closed," said Chancellor Dixon. "Let me say that again, ECSU is not closed";
While residence halls are open until noon Saturday, March 21, we are encouraging students to leave as soon as possible. If students are not able to leave today, March 17, they should contact the Office of Housing and Residence Life at 252-335-3761.
ECSU will establish an exception process that allows students to return to university housing after sring break if they establish a legitimate and significant need to do so;
We ask that students pack as if they were not to return to campus for an uncertain amount of time;
ECSU has received questions about possible refunds. At this time we do not have an answer. The UNC System is working on that question, and as soon as we have guidance, we will be sure to communicate this to the campus community;
If a student receives an exception to return to campus and believes he or she has been exposed to the virus, or begins to show symptoms, we do have a plan for quarantine and protect the rest of the campus. If you think you have been exposed or start to show symptoms, call the Student Health Center at 252-335-3267;
Beginning today, March 17, the cafeteria has shifted to a take-out only option. Both Bedell Hall and the Grill are operating under normal hours this week. Students are asked to return to their residence halls with their meals to limit gatherings of more than 10 people;
All UNC institutions are transitioning from in-person instruction to alternative course delivery. Alternative course delivery will begin March 30 and last indefinitely. Alternative course delivery is online instruction;
To ensure ECSU is prepared to offer online instruction, we have extended spring break. Spring break starts today at the close of business;
ECSU has sent a survey to students to assess their access to computers and Wi-Fi at home. All students need to complete and return that survey before they leave for spring break;
We have been asked if commencement will be canceled or postponed, and if the deadline for graduation fees will be extended. We do not know at this time. As soon as we receive guidance from the UNC System, we will let our campus community know;
A list of canceled events can be found on ECSU's coronavirus webpage, linked from the homepage at ecsu.edu;
All university-related travel is canceled;
The university, while remaining open, will do so with minimal on-campus operations. Many functions of the university can be completed remotely and will begin doing so March 18. Employees should receive notification from their supervisor.
Individuals can submit additional questions related to the coronavirus to stopcorona@ecsu.edu.
---