Chancellor Delivers 2017 State of University Address
Posted On January 4, 2017
---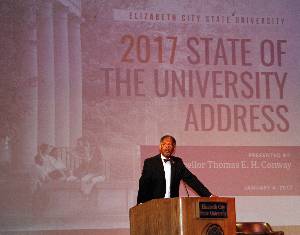 Engage, educate, and empower. That was the message Elizabeth City State University Chancellor Thomas Conway delivered in his 2017 State of the University address during the Jan. 4 faculty and staff conference, "Strategies for Fostering Student Success."
On the stage of the Floyd L. Robinson Auditorium in the Fine Arts Center, Chancellor Conway told faculty and staff that as an institution of higher learning, our mission is to engage students, educate them, and empower them to build a future for themselves, and for their communities. It is also, he said, a mission that extends beyond the campus, and out into the surrounding communities.
Chancellor Conway also acknowledged that ECSU has faced issues over the past year, many of which have played out in the public sphere through media reports. The admissions and personnel audits conducted internally and by the UNC-General Administration, resulting in a warning from the accrediting agency SACS, were examples of issues that have been at the forefront of people's minds.
However, "The issue is not the problem. The issue is how you fix it. We immediately went to work fixing those things."
When SACS visits the campus in April, Chancellor Conway said he is, "confident we will be compliant."
He also pointed out that for the past four years there have been "no financial audit findings." In other words, the university has been in good financial health.
"We are balancing the budget in a continuing shrinking economy," he said.
Spreading the good news about ECSU is imperative. Chancellor Conway said there is a great deal to celebrate at the university, and communication across every channel is "key to our success." Chancellor Conway presented stories about successful alumni, illustrating the strength of ECSU's legacy.
Focusing on the university's core values of accountability, diversity, excellence, and preparing students holistically, Chancellor Conway said these values express "who you are."
"This is an amazing institution in a lot of ways," he said.
He also emphasized the university's six strategic goals: recruitment, retention, graduation strengthening academic quality serve the people of North Carolina, especially in our 21-county region strengthen the university's internal controls, operational infrastructure and accountability maintain fiscal stability and expand educational opportunities.
One of the goals, internal controls, emphasizes a community approach, something that drew applause from the attending faculty and staff.
"One of my goals is to help people (faculty and staff) understand that we are not a group of loosely associated people who share a parking lot," he said. "We are a university."
Coming together as a university, he said, is imperative to the health of the campus community, and to the general public ECSU serves. The entire campus community, he said, should do all we can, to not only extend a helping hand to the public, but also work together to build a stronger university.
And all of that, he said, culminates in one important question: "What is the most important thing we do?"
"Students," he said. "And that is what people are looking at. The student experience is the thing that will make or break us."
And it is up to us as a university, he said, to design curriculum and student activities for their benefit, "to elevate this important work."
"We're turning out students who are going to do exceptional things, and we need to let people know," said Chancellor Conway.
---