Chancellor Conway Outlines Working Group Strategy at Community Forum
Posted On November 8, 2017
---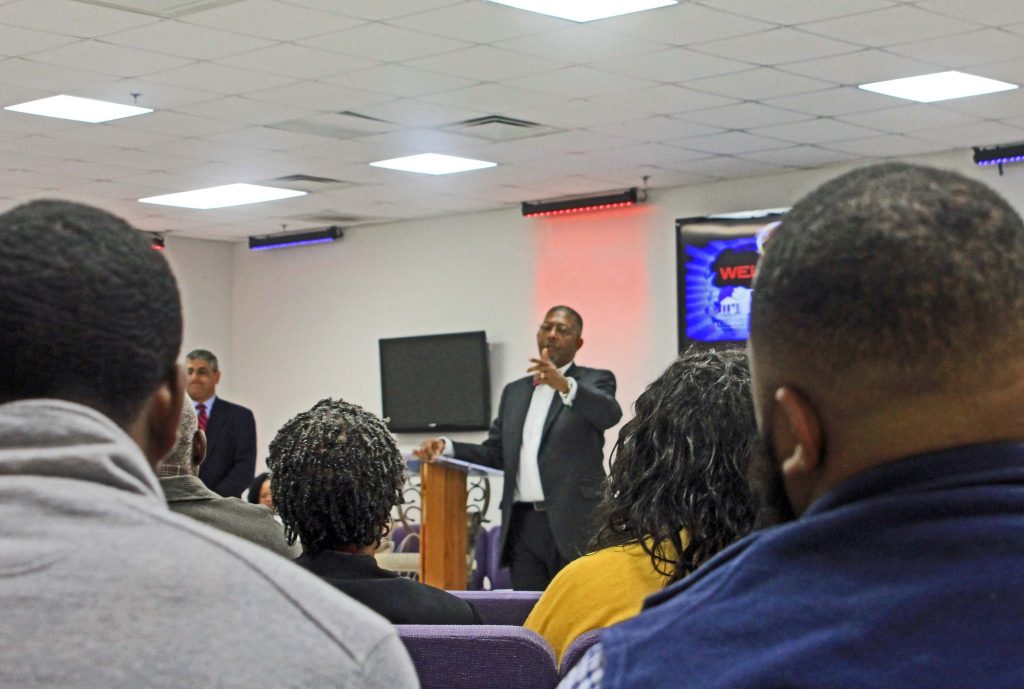 Elizabeth City State University Chancellor Thomas Conway speaks to members of the Elizabeth City area community during a community forum Tuesday, Nov. 7.
Elizabeth City State University is preparing for an anticipated surge in enrollment when N.C. Promise, the reduced tuition program, rolls out in the fall of 2018. That's the message ECSU Chancellor Thomas Conway delivered to more than 40 community members during a community forum Tuesday, Nov. 7, held at Mt. Lebanon Baptist Church, The Mount, in Elizabeth City.
Last month Chancellor Conway and University of North Carolina System President Margaret Spellings announced the launch of phase two of a working group implemented to advance ECSU into the future. During his presentation at the community forum, Chancellor Conway said this working group will consist of three Board of Governors members and three Board of Trustee members, and the goal of the second working group is to begin securing the infrastructure, or internal operations, of the university in preparation for growth.
"We are starting to get a lot of interest not only from our 21 county-area, but also a lot of applications from the Raleigh-Durham and Charlotte-Mecklenburg areas," Chancellor Conway said.
In addition to the working group, Chancellor Conway introduced the formation of an operational group tasked with looking at and fine tuning internal policies and practices at the university. The group will consist of staff from UNC General Administration and ECSU, and will be co-chaired by Chancellor Conway and Dr. Karrie Dixon, UNC System vice president for academic and student affairs.
"We will be looking under the hood of ECSU," said Chancellor Conway.
Chancellor Conway outlined the necessity of securing a solid foundation for the future of ECSU, and the support it has from the UNC System, and state legislators. ECSU, he said, is an economic engine for the region, and is also an institution producing a strong pool of talented young men and women who contribute to the workforce across the country, as well as the local, regional, and state economies.
He also assured the forum attendees that ECSU's primary mission has not changed.
"Who do we recruit? Students from low-wealth backgrounds and rural communities," he said.
The working group includes ECSU Trustees Harold Barnes, Jan King Robinson, and board chair Kim Brown. Brown, who while a graduate of Norfolk State University says he is one ECSU's biggest supporters, explained to forum participants that it is time for the university to prepare for an onslaught of new students.
"We're going to have a lot of kids showing up next year," he said.
Brown, like Chancellor Conway, said while there has been progress made over the past year, and enrollment is up for the first time in five years, there is a lot of work to do; and much of that work, he said, will require more than the efforts of ECSU staff and faculty.
"To turn the corner finally, it will take community support," said Brown.
Last year Chancellor Conway led the first working group to address the need to increase enrollment at ECSU, which resulted in an increase of new students.
The second working group is currently underway and during November and December will be looking at the operations of all university divisions. They will make immediate changes where they are needed, and recommend new structures where appropriate.
From January to March of 2018, the group will be looking at recruiting key positions for the university, and from May to June the group will be winding down. The work is in part in preparation for N.C. Promise, when in the fall of 2018 in-state tuition will be reduced to $500 a semester and out-of-state tuition will be reduced to $2,500 a semester.
---